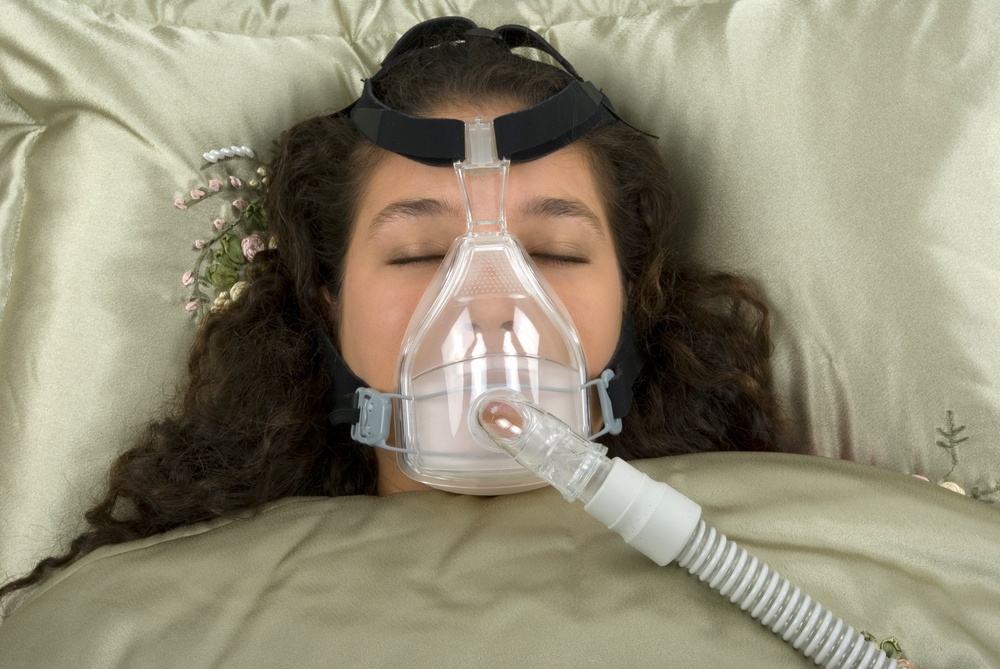 Women differ from men in various ways. Although different, women are not immune to suffering from obstructive sleep apnea (OSA).
If your physician diagnoses you with sleep apnea, the primary treatment options is nightly use of a CPAP mask.
Women have special needs to be considered when choosing a CPAP mask. Many CPAP mask options are available. It is important to find a mask with the best fit to ensure both a comfortable night's sleep as well as increase compliance.
This article will review our top five picks for women CPAP masks.
What is Obstructive Sleep Apnea?
Obstructive sleep apnea is a serious condition in which you temporarily stop breathing at night. This disruption of sleep can occur multiple times throughout the night. Many women report poor night's sleep and feeling tired throughout the day. Other signs of sleep apnea include but are not limited to:
Snoring

Choking or gasping sounds

Frequent waking to use the bathroom

A feeling of restlessness

Mood swings and irritability

Decrease in libido

Difficulty concentrating
Common Symptoms of Sleep Apnea in Women
It's a common misconception that only men suffer from sleep apnea. And because this myth exists, many women (and children) go undiagnosed.
In fact, many experts put the ratio of men with sleep apnea versus women at 3 to 1.
Over the age of 40

Women's risk of sleep apnea increases after menopause

Being Overweight

Enlarged neck size, 16 inches or larger for a woman

GERD, or acid reflux disease

Nasal Obstruction

Allergies

Deviated Septum

Other sinus problems

Anatomical Variations

Small Jaw

Large Tongue

Large Tonsils

Family History
How is Sleep Apnea Diagnosed?
If you are a woman who suffers from a combination of the above symptoms, your doctor will likely order a sleep study. Sleep studies may be performed at hospitals or specialized centers which perform sleep studies under the supervision of trained professionals, called Sleep Centers.
Read More: Hospital Sleep Centers vs Independent Sleep Centers
What is a CPAP?
A CPAP, or Continuous Positive Airway Pressure, is a specialized medical device used to deliver continuous pressure into a patient's airway, preventing collapse of the airway and the associated symptoms of sleep apnea.
CPAP equipment consists of three parts: the mask, headgear, and machine.
Choosing your CPAP Mask
Three distinctive types of CPAP masks are available from which to choose: full mask, nasal, and nasal pillow.
The full mask covers both the mouth and nose. It works best for mouth sleepers. It provides the greatest amount of stability and works well for those who are restless sleepers.
The nasal mask, as its name suggests, covers only the nose. Its lightweight designs provides great comfort. Provides greater visibility than the full mask.
The nasal pillow consists of silicon prongs that are inserted directly into the nostrils. Minimal facial coverage with no straps which wrap on the face. The nasal pillow works best for low to mid pressure machines.
Choosing a CPAP Machine for Women
There are a variety of CPAP machines on the market. CPAP manufacturers have started to respond to the increasing number of women being diagnosed with sleep apnea.
With all the options available, it may be overwhelming to pick which machine is best for you. The experts at Sleep Resolutions have put together a comprehensive list of the best CPAP systems for women.
TAP PAP Nasal Pillow CPAP Mask with Improved Stability Mouthpiece
This second generation system has been improved since its initial release. The patented ThermAcryl mouthpiece is thinner, lighter, and mold-able for a custom fit.
The mold-able mouthpiece allows for the elimination of the traditional headgear, thus, patients can avoid the dreaded bedhead.
The nasal pillow comes in three sizes for best fit. Its quiet design enables both the user and their partner an undisturbed night's sleep.
The hose uses the ball and socket joint to allow rotation with sleep movement without restriction.
ResMed Mirage FX for Her Nasal CPAP Mask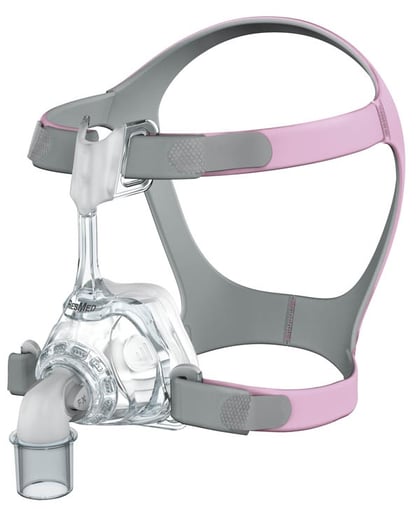 The ResMed Mirage FX for Her Nasal CPAP Mask is built for a woman's facial features. This comes with only four pieces, which makes for easy assembly, cleaning, and maintenance.
Similar to the ResMed Mirage, this system features smaller pieces, built for a woman's delicate features, and pink headgear trim.
The two wall cushion provides dual support for a comfortable and secure fit. The softer cushion decreases pressure on the patient's nose to reduce soreness.
Swift FX Nano for Her Nasal CPAP Mask with Headgear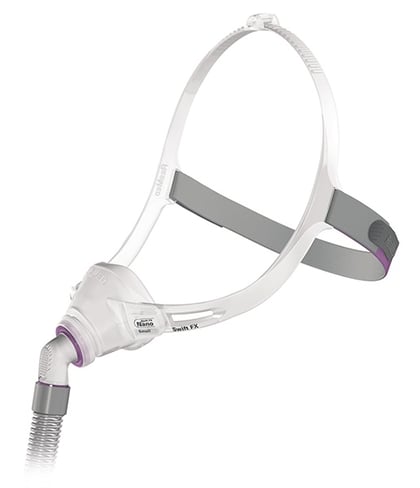 The Swift FX Nano for Her Nasal CPAP Mask system features a small but effective lightweight design. It features three main parts: the mask, headgear, and machine with tubing.
The short tube with jointed pieces is effective for even the most active sleepers. The nasal cushion made specifically for a woman gives a comfortable fit and seal around the nose with minimal face contact.
The stability and support of the headgear allows a forehead free headpiece, which gives great visualization for those who prefer falling asleep to a book or watching television.
Quattro FX For Her Full Face Mask with Headgear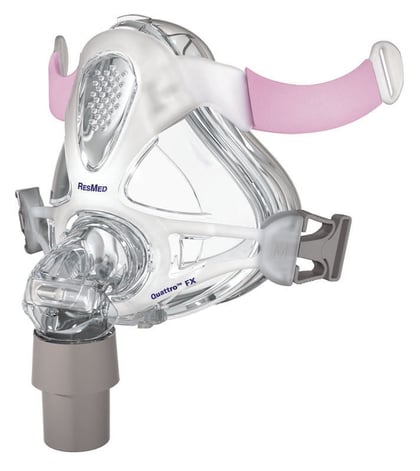 This system is ideal for a side sleeper. Its streamlined design uses fewer points of contact to grant better visualization.
Its pink straps and headgear placement allows the mask to easily be used while wearing hair pulled back in a ponytail.
The design and stability enables the headgear to be forehead contact-free. Pressure is distributed evenly for comfort and leak elimination.
Set and forget headgear clips allow easy application with each use.
Respironics GoLife for Women Nasal Pillow CPAP Mask
This pillow mask comes with three different size pillows. The mask forms to a woman's face and the pillows stay in place even with movement.
The revolutionary tube design allows the patient to wear the tube over the head or traditionally.
The high-quality adjustable headgear features soft straps and a quiet air diffuser for uninterrupted night's sleep.
Summary
It's important to ask your Sleep Medicine Specialist for their recommendations of the best CPAP machine for your specific needs.
Your local home medical store or CPAP company representative will be able to help you find the best fit and size.
As always, the experts at Sleep Resolutions are here to help you with all your sleep needs.