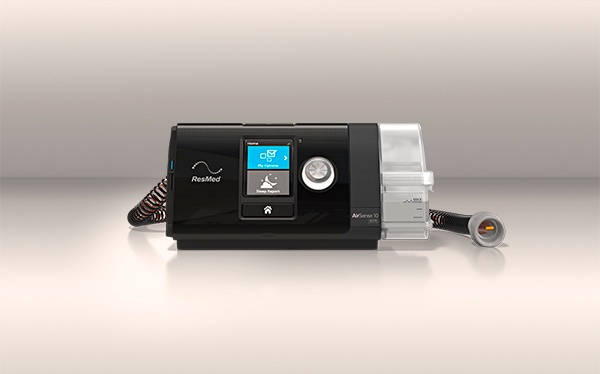 When diagnosed with obstructive sleep apnea and prescribed CPAP therapy, finding both the perfect fitting mask and user-friendly CPAP machine plays a crucial role in successful therapy. It is easy to become overwhelmed by the numerous accessible options.
Our experts here at Sleep Resolutions are available to lend not only their professional knowledge but also their expert opinion. This article will focus on one of the most advanced CPAP machines the market is currently offering: The ResMed AirSense 10 Elite.
As the name suggests, the Resmed Airsense 10 Elite CPAP Machine with HumidAir Heated Humidifier is a premium machine system with state of the art technology.
The machine delivers continuous positive airway pressure, preventing the collapse of the patient's airway associated with obstructive sleep apnea. This single pressure system delivers a set pressure during use. The built-in humidifier allows for a simplified machine with fewer parts. Because of this, the Airsense 10 Elite is touted as 23% lighter than other models.
ResMed AirSense 10 Elite Special Features
The Airsense 10 Elite boosts a single pressure system, meaning the machine will not automatically adjust pressures while it delivers a set, constant pressure during patient use.
The special feature which sets this machine apart from its counterparts is it's HumidAir Heated Humidifier and Optional ClimateLineAir Heated Tube. The unique design of this machine allows the humidifier to be build in, which makes the system both more user-friendly and smaller in size.
Patient's may customize their humidity settings by choosing their humidification comfort level on a 1-8 setting dial. If a patient decides to add in the optional ClimateLineAir heated tube, the humidifier will be adjusted to the "auto" setting, and the optimal humidification setting will be set for the patient.
The patient-friendly LCD of the AirSense 10 Elite is colored, large, and easy to read. The machine's easy grip dial allows a simplified menu selection.
Numerous options are available for patient control including:
Humidity Level

Select 1 (lowest) to 8 (highest)

Pressure Relief

Adjust pressure as the patient exhales, increasing patient comfort

Ramp Time

Start at a lower pressure for maximum comfort while starting therapy. Or select the AutoRamp feature for the machine to sense when sleep is initiated.

Mask Fit

The machine runs a seal check. A Green smiley face will display if the seal is adequate. A red frowny face will show if there is a leak detected. This troubleshooting feature takes the guesswork out of leak detection.

Mask Type

Select the type of mask you have chosen for therapy: full mask, nasal, or nasal pillow

Smart Start

The mask has sensors which detect breathing, therefore initiating the start of therapy

Run Warmup

Allows patients to preheat their humidifier prior to starting therapy
Light Sensor
The light sensor is able to detect the amount light in the room, and will then adjust the brightness of the LCD screen. This eliminates sleep disturbances which may occur from excess light in the room
Advanced Data
Therapy date may be monitored and saved using this feature with SD card. Users may track and view the following data from the menu:
Usage Data

Events per hour

Average Usage

Leak Rate
Expiratory Pressure Relief
The ResMed Expiratory Pressure Relief, or EPR, monitors the patient's personal breathing patterns. It will then match the inspiratory and expiratory cycle for a more natural delivery of pressure. Three levels are available for the patient to choose.
Specifications
The machine weighs 2.75 lbs (44 ounces). Dimensions are 10.04 x 4.57 x 5.91 inches.
When purchasing the ResMed AirSense 10 Elite, patient's will receive a machine with built-in heated humidifier, SlimLine tubing (15mm diameter), Power Supply with Cord, Travel Bag, 1 standard air filter with cover, SD card, and a patient manual. The SlimLine tubing comes in the standard length of 6 ft.
The AirSense 10 Elite is FAA compliant for airplane use. This approval means that neither the device nor any materials are not known to cause any disruption in safe air travel.
The device is able to run on standard power sources. A DC converter is available. Additionally, numerous battery pack options when power is not available for immediate use.
The AirSense 10 Elite is compatible with any mask the patient chooses. This therapy system should not be used in patients who have been diagnosed with severe bullous lung disease, pneumothorax, pathological hypotension, patients with a cerebrospinal fluid leak, or anyone with recent cranial surgery.
Wrap Up
This machine system is a popular therapy for sleep apnea patients. It offers technology that is unseen in many other systems. The technology allows direct patient engagement in monitoring their therapy. Informed patients tend to have higher rates of compliance. Because it is compatible with any mask, patient's may customize their treatment therapy. The experts at Sleep Resolutions are happy to assist you in learning more about this popular device.