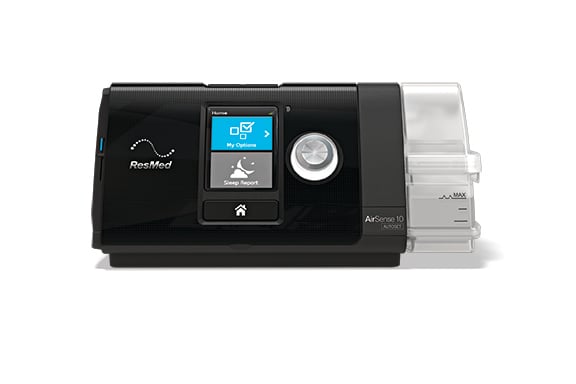 If you've been diagnosed with obstructive sleep apnea, your physician likely has prescribed you CPAP therapy as a treatment option. Although CPAP machines tend to the be the most popular treatment for sleep apnea, patients should know other therapy options are on the market.
Another option your sleep specialist may recommend is an APAP machine, which stands for automatic positive airway pressure.
This article will focus on a popular APAP machine called the ResMed AirSense 10 AutoSet.
The APAP machine works in a similar manner as a CPAP machine. These devices deliver air pressure via a mask, which keeps the patient's airway open all night, preventing the airway from collapsing.
While a CPAP machine typically has one setting which will not adjust throughout the night, an APAP machine has two settings, high and low. These will fluctuate depending on each patient's particular needs.
The ResMed AirSense 10 AutoSet is a premium machine for the treatment of sleep apnea. It features the standard auto adjustment that is custom to APAP machines. This allows you to experience the least amount of pressure necessary for quality treatment. The machine continually monitors patient airflow.
If the autoSet algorithm detects a change, such as a sleep apnea event, it will immediately adjust to deliver the lowest pressure needed to correct the episode.
Special Features of The AirSense 10 AutoSet APAP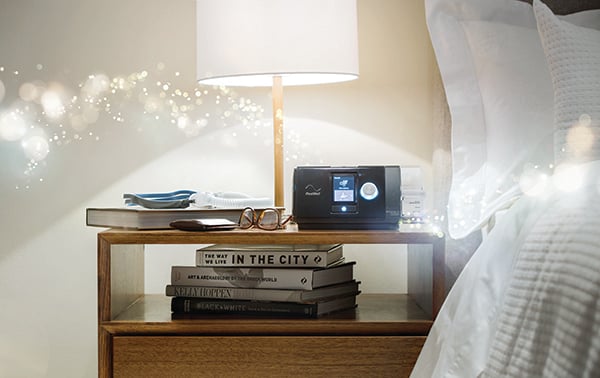 Integrated Humidification is built into every Airsense 10 AutoSense. Patient's may attach the optional ClimateLine Air heated tube for increased comfort. The machine uses sensors to detect room temperature to provide optimal humidification levels while minimizing condensation.
The AirSense 10 AutoSet features wireless technology to keep patients engaged in their care. This technology connects to ResMed's cloud-based management system, MyAir.
MyAir offers patients the ability to change the machine's settings as well as troubleshoot any problems remotely. One important note is that MyAir does only work in the United States.
The Airsense 10 AutoSet has the AutoRamp, which is a new technology that detects when sleep is occurring. This design allows the machine to deliver you a low pressure of air to help you ease into sleep. Once the machine detects sleep has been achieved, a gradual increase in pressure is applied until the therapeutic level is reached.
The ResMed Expiratory pressure relief system is able to maintain the optimal treatment for patients at all times during their breathing cycle.
This technology will maintain the pressure during patient inhalation while reducing pressure during exhalation.
Three comfort settings are available to choose from.
AirSense 10 AutoSet Machine Features
This Airsense 10 AutoSet has standard features while making it user-friendly.
It has a forward facing design with easy to use controls and interface.
The colored LCD screen allows simple navigation of menus.
Patient's may also customize their machine settings. The following options may be selected from the menu by the user:
Ramp Time: an alternative to the AutoRamp, this option allows the patient to ease into their therapy with a period of lower pressure.

Mask Fit: The device runs a seal integrity check. If the seal is adequate, a green smiling face will be displayed. If a leak is detected, a red frowning face will display.

Mask Type: Select your mask - nasal, nasal pillow, or full face mask

Smart Start: Detects the initiation of therapy when the machine senses breathing. Therapy will automatically start when breathing is detected.

Run Warm-up: Preheat humidifier water prior to the start of therapy

Humidity Level: Patients may select a set humidity level between 1 (lowest) and 8 (highest).

Pressure Relief: Eases the pressure when exhaling, increasing patient comfort

Response: Provides a gradual and gentle transition during the automatic pressure changes
Another comfort feature is the ambient light sensor. This sensor will detect the amount of light in a room, and adjust the brightness on your screen accordingly. The light stays dim in the event that you need to pause your therapy at any time during the night. This is a beneficial feature sensor allows minimal sleep disturbances for you and your partner.
The Advanced Detection Monitor can differentiate between different sleep events, such as obstructive or central sleep apnea. The technology helps correct episodes with the appropriate therapy.
Specifications
The weight of this machine is 2.75 lbs.
Its dimensions are 10.04 in length, 4.57 inches in width, and 5.91 inches in height.
It comes with 15 mm Slimline tubing, in the standard 6-foot length.
A travel bag is included, as well as an SD card and one filter.
Troubleshooting
It is important to not fill the humidification chamber past the max fill line, as this can cause overflow and damage your machine.
Patients frequently ask if the humidification water tub can be washed in the dishwasher. It is advised not to do so, as this can damage your chamber. Use warm water with a mild detergent to clean your machine.
Regular cleaning and maintenance are necessary for your machine to work to full capacity. Always check the tubing for cracks and leaks. The tubing may frequently need to be replaced for a secure seal.
Final Thoughts
The ResMed AirSense 10 AutoSet offers all the convenience of a traditional CPAP machine, but with more advanced features for increased patient comfort and compliance.
It features all the advanced technology that patients can expect from ResMed. If you are wondering if the AirSense 10 AutoSet APAP machine would be a suitable therapy for you, please contact the experts at Sleep Resolutions to help you on your journey.