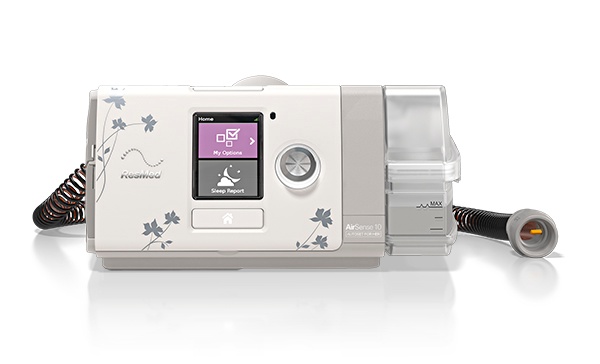 It's no secret that women differ significantly from men. Women have unique anatomy, and both the medical community and medical supply companies have taken notice.
Although women are not as commonly diagnosed with obstructive sleep apnea, or OSA, as their male counterparts, they are starting to become more recognized as frequent suffers from this exhausting condition. This article will focus on an APAP machine made specifically for women:
The AirSense 10 AutoSet for Her.
The most frequently prescribed therapy for adult suffers of sleep apnea is CPAP therapy. CPAP therapy is non-invasive and easy for patients to use at home. An APAP system is a type of CPAP machine.
CPAP stands for continuous positive airway pressure, while APAP stands for automatic positive airway pressure.
APAP differs slightly from the traditional CPAP machine as it does not deliver a set, continuous pressure, but rather auto-adjusts with each breath for optimal treatment.
Between the feminine design and unique algorithm, the AirSense 10 AutoSet for her makes it an ideal choice for women.
Airsense 10 Autoset for Her Special Features

The Airsense 10 Autoset for Her has a unique algorithm made especially for women and how sleep apnea presents to them.
Without getting too technical, The For Her algorithm responds after just one limited breath and will increase pressure accordingly. This system takes all the guesswork out for patients, who can choose the Autoset mode and let the machine determine the most therapeutic pressure.

This APAP machine has a built-in heated humidification system. Patients may choose between nine humidification settings: off, and 1 through 8, with one being the lowest humidification setting and eight being the highest setting.
Users may add the optional ClimateLineAir heated tube, which will enhance the humidification experience. The machine offers an auto climate control mode, which will consider the room temperature before adjusting to an appropriate level of humidification.

The AirSense 10 AutoSense for Her also features the Smart Start technology. This simple method of starting your machine includes placing your mask to your face and breathing. The machine will promptly sense your breath and treatment will initiate. Similarly, if you remove your mask, the machine will detect this and treatment will stop.

This machine has a vibrantly colored LCD screen to assist users to clearly identify stages of therapy. The light sensor of the machine will automatically adjust the screen brightness relative to the room. This helps avoid excess light which may disrupt the patient and their partner's sleep patterns.

The LCD screen is also able to keep reports for patients to remain engaged in their therapy. By accessing the Report Menu, patients may view their user date, events per hour, average usage, and leak rate. Also of important note is the wireless option of the machine, which works well with the ResMed MyAir for your smart devices.
Machine Specifications
This machine weighs 2.75 lbs (44 oz) with the attached water chamber.
The dimensions are 10.04 inches in length, 4.57 inches in width, and 5.91 inches in height.

When ordering the AirSense 10 AutoSet for Her, patient's will receive the machine with the built-in HumidAir Heated Humidifier. Also included is the standard humidifier chamber. 15mm diameter slimline tubing, as well as one filter and filter cover, are included.
A travel bag is also included for patient convenience whenever they need to take their treatment on the road.
Lastly, an SD card allows patients to track and store their data.
Troubleshooting
Which humidification setting is best?
Many patients have questions about which humidification setting to use. Settings which are too low may cause patients to experience nasal dryness. Settings that are too high may lead to condensation in the nose, on the mask, and within the tubing. It is best to find a humidification setting in between these two extremes.
My Screen is Black
This is commonly encountered, especially since the screen will automatically turn off after a period of time. Press the Home Screen or the dial to activate and power up the machine.
If this does not work, check the power supply. Connect the power supply and make sure the power is fully connected.
My Screen and Buttons are Flashing
This simply means an upgrade is in progress. The software regularly will update to ensure your machine works correctly. Upgrades take an average of 10 minutes from start to finish. Your machine will be ready to use after the upgrade is complete.
What type of mask may I use with this m
achine?
This machine is compatible with any face mask. Patient's may choose between the full mask, nasal mask, or nasal pillow of their choice to use with this machine.
It should, however, be noted, that the SmartSet technology may not work as intended with nasal pillows. If the machine does not appear to be functioning with your nasal pillow, the SmartSet comfort feature may be turned off.
What Patient's Love about this Machine

By far, the positive reviews outweigh any negative criticisms of this machine. Many patient's report excellent sleep conditions due to the minimal noise. Patient's who travel frequently report they enjoy how lightweight this machine is and the ease in which they can travel with it. For patient's who often travel by air, the machine is considered FAA compliant on airplanes.

Other patient's praise how user-friendly ResMed AirSense 10 AutoSet for Her is. The LCD screen is easy to navigate and summarizes data, allowing patients to stay engaged in their treatment. They report machine set-up is easy and they can troubleshoot most problems utilizing the user manual.

It's easy to see that this machine is an ideal choice for female diagnosed with OSA. If you have any questions about this machine or any CPAP therapy, please contact Sleep Resolutions. We take great pleasure in helping patients get a great night's sleep.