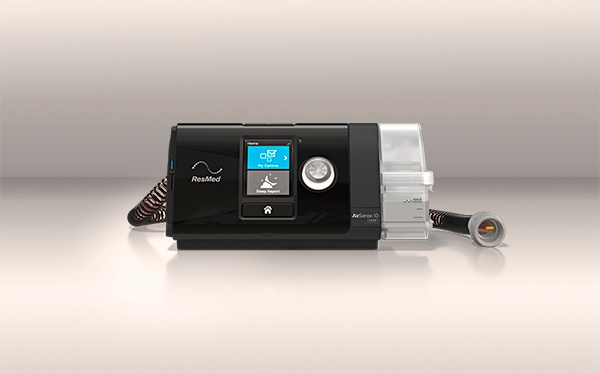 At Sleep Resolutions, we understand that finding the perfect CPAP mask and machine combination is crucial for giving you a restful night's sleep. With so many options on the market, choosing your CPAP machine can be overwhelming.
This article will review a popular CPAP machine option: The ResMed Airsense 10.
The CPAP therapy system delivers continuous positive airway pressure, preventing your airway from collapsing. This action allows patients to have a better, more peaceful night's sleep.
CPAP treatment consists of a CPAP mask and machine. The mask is fitted to the patient's face, while the machine connects to the mask via tubing. The machine is responsible for delivering the continuous pressure necessary for keeping your airways open while you rest.
The ResMed Airsense 10 is one of the most popular CPAP machines on the market. It features unique tubing and is compatible with any CPAP mask of your choice.
ResMed Airsense 10 Special Technology
The AirSense 10 is an unsurpassed sleep apnea device with advanced technology. It automatically adjusts pressure to ensure you're receiving the lowest pressure, while still receiving premium treatment.
Wireless connections enable you to track your treatment on your smart device. ResMed's app, MyAir, allows patients to change the machine's settings as well as troubleshoot remotely. The SD card has the memory to hold 365 days of data, 30 days of detailed graphs, and 7 days of high-resolution flow data. The tech-savvy patient will not be disappointed with all the options this machine offers.
The Airsense 10 features the premium AutoRamp option. This smart technology is designed to assist the patient to drift into uninterrupted sleep. When the machine is turned on, the system delivers low pressure to help the patient fall asleep peacefully. Once the device detects the patient is sleeping, it will gradually increase the pressure to therapeutic levels.
Other unique technology this machine features include an ambient light sensor. This sensor detects the amount of light present in your room and adjusts the brightness of your screen accordingly.
The advanced event detection feature is able to differentiate between central and obstructive sleep apnea and will adjust therapy as needed. This ensures the patient is receiving the correct therapy at all times.
Other Special Features
Heated humidification is a standard feature of the AirSense 10 machine. This humidification system uses distilled water to increase moisture and prevent side effects such as dry mouth. Another standard technology is the Expiratory Pressure Relief, or EPR. This will maintain optimal pressure during inhalation and reduces pressure during exhalation.
The Airsense 10 also features an Easy-Breath Motor to allow a quiet and peaceful environment for both the patient and their partner. This technology utilizes foam and insulating materials to minimize turbulence without compromising performance.
ResMed AirSense Specifications
The Airsense 10 dimensions are 4.57 inches x 10.04 inches x 5.91 inches. It is a lightweight device, weighing in at 2.75 lbs (44 ounces).
It is approved for use on airplanes and is FAA approved for all phases of flight. It has automatic altitude compensation for easy use in all geographic areas.
Tubing
The Airsense 10 is compatible with two types of CPAP tubing. Both types of tubing are compatible with any CPAP masks.
The tubing choices are:
The Slimline Tube

ClimateLine Air Heated Tube
The Slimline Tube is described as 40% lighter and 14% thinner compared to traditional CPAP tubing. It is also estimated to take up to 35% less space. This tubing is excellent for restless sleepers, as patients are given more freedom of movement without compromising their mask's seal. It features a smart fit cuff which allows easy connection and disconnect.
The ClimateLine Air Heated Tube is made exclusively for the Airsense 10 system. This tube's new technology allows the delivery of climate control for revolutionary patient comfort. The tube contains a sensitive heating circuit which is automatically controlled for constant, comfortable temperatures delivered at the mask. The temperature is measured at the mask and features a feedback to for constant temperature control.
Troubleshooting Your ResMed AirSense
The following are frequently asked questions by patient's who are using the Airsense 10 CPAP therapy system:
I have noticed increased dry nose since starting CPAP therapy. What can I do?
This is a common complaint. Luckily, there is a simple solution.
An adjustment of the humidification system may fix this problem. Likewise, if you notice water droplets in the mask or tubing, your humidification may be too high. Adjust as needed to your level of comfort.
My water tub is leaking
This may be from one of two problems. The first options are that the tub may not be assembled correctly. Check your parts for damage and assemble per manufacturer instructions.
The other option is your water tub may be damaged or cracked. If this is the case, please contact your care provider and home/medical supply for replacement parts.
My screen is flashing
This complaint is typical and occurs when a software upgrade is in progress. If you encounter this situation, know that a software upgrade takes roughly 10-15 minutes to complete. After the upgrade, you may use your machine as before.
If you are experiencing additional issues with your Airsense 10, please reference your user manual or contact your care provider for resolution.
Wrap Up
The experts at Sleep Resolution highly recommend this revolutionary CPAP machine. Its unsurpassed technology allows excellent patient therapy engagement. It is compatible with any CPAP mask. Please see our reviews on various types of CPAP masks, or visit the professional staff at Sleep Resolutions to assist you in finding the mask and machine combination that will help you get your best night's sleep.