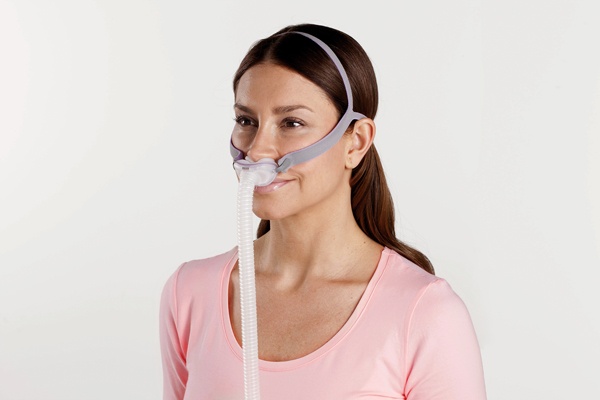 When you think about obstructive sleep apnea, you probably imagine an overweight middle-aged man that snores. While this may be the most common demographic to diagnosed with OSA (obstructive sleep apnea), it's by no means complete. In fact, all shapes, sizes, races, ages, and gender of people can have sleep apnea.
Unfortunately, the sleep medicine industry has really marketed to this stereotypical patient: an overweight man with a large neck.
Many sleep masks, headgear, and CPAP machines are designed for men, making it harder for women, many of whom also struggle with obstructive sleep apnea, to find equipment geared towards them.
Although men are more often diagnosed with OSA, it doesn't mean that it is an uncommon occurrence in women. There is an increasing awareness as to how sleep apnea impacts women, and more women are seeking treatment than ever before.
Sleep apnea equipment manufacturers have been taking notice and are designing more equipment to meet the unique needs of women diagnosed with OSA. Small sizes, differing facial contouring straps, better strap gear for less red marks, and more.
At Sleep Resolutions, we recognize every person has their own individualized needs and finding the right equipment can make all the difference in CPAP therapy compliance.
Ladies, if you're trying to find the perfect sleep apnea mask for you, we're here to help.
ResMed has updated their highly popular AirFit P10 Nasal Pillow to better suit the needs of women.
Here is our complete review of the ResMed AirFit P10 Nasal Pillow for Her.
AirFit P10 Specifications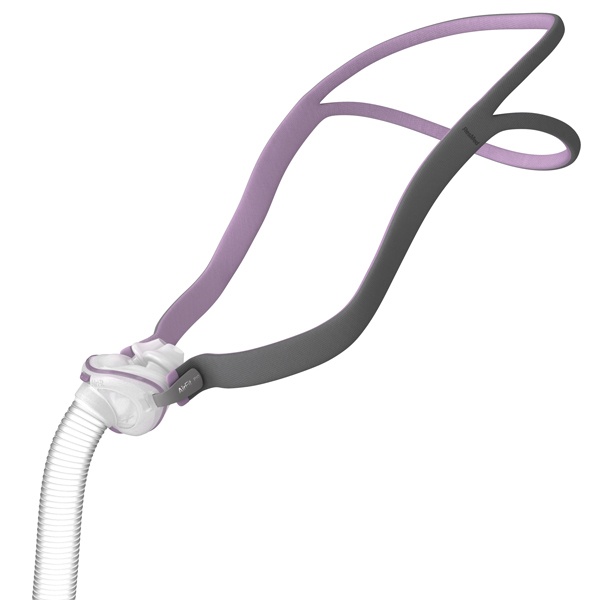 This mask is more than just a different color. ResMed designed the AirFit P10 with a smaller nasal cushion and headframe system than the AirFit P10 Nasal Pillow.
It provides an option for women when the standard sizing options simply are not enough.
Therapy pressure between 4 to 20 cm H20

Operating temperatures between 41 to 104 degrees F (5-40 degrees C)

Operating humidity between 10% to 95% non condensing

Sound emitted at 22 dBA (uncertainty of 3 dBA)

Dimensions depend on the size. Seek out sizing options through your sleep medicine provider.

Service life is dependent on the care, intensity of usage, maintenance, and environmental conditions in which the mask is used in and stored.

Dead space is the empty volume of the mask to the end of the swivel when using the large cushions its 123mL
We should note that ResMed does not use PVC, DEHP, phthalates or natural rubber latex. There are no hazardous materials used.
Pros of the AirFit P10 Nasal Pillow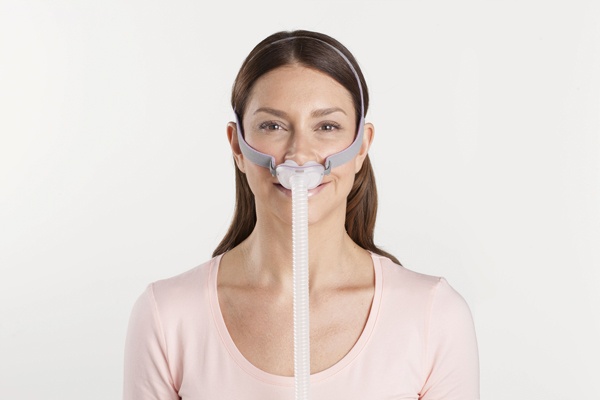 ResMed boasts about how this is their quietest mask yet. ResMed notes that it is 50% quieter and 50% lighter than the Swift FX series.
The smaller sizing options are geared specifically for women. The idea of having different sizing options for women seems so simple yet makes a major difference in getting a better fit. Women's faces are simply different than men's faces.
The nasal pillow has a dual-wall technology with trampoline action seals. It seals on contact but keeps it flexibility with movement.
The headframe is auto adjusting and has a key-clip in for the nasal pillow for easy connect and disconnect from the tubing.
Troubleshooting
Every mask can have issues and knowing those issues and their solutions can help ensure success in sleep therapy. Here are some of those common issues and potential solutions to them.
Pillow isn't Sealing Properly, Uncomfortable Fit, or Causing Red Marks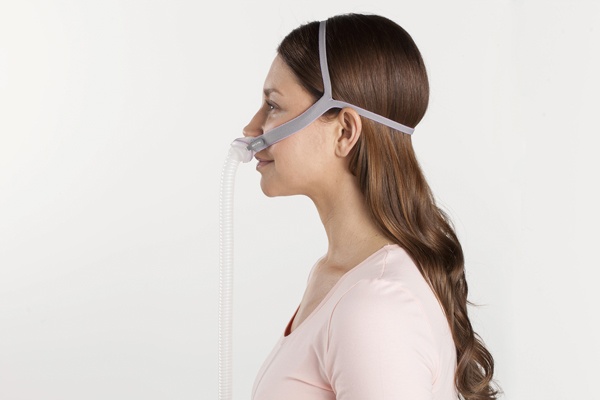 Fitting the pillow may take some practice. Make sure the pillow is set in the correct placing with the (L) and (R) indicators are lined up with your nose appropriately. The inner seals may need to be released. Squeeze the pillow until you can see the inner wall is released.
Attempt to readjust your headgear to fit according to the instructions.
Clean your nasal pillow. Always follow the instruction for caring and cleaning your nasal pillow.
If your headgear becomes too loose, wash it according to the instructions, to help it return to its original form; then readjust the headgear.
The vent may be blocked or dirty. Use a soft bristle brush to clean the vent. The vent may discolor over time, but that does not impact the function of the machine.
The vent may become wet. Makes sure to dry the vent after cleaning or allow it to completely dry before use.
Noisy Mask
If you notice that the mask has a louder noise volume than normal it may need to be reassembled. Disassemble the mask and follow the instructions to reassemble.
The mask may start leaking air. Should you notice mask is leaking air, refit and reposition your mask. Ensure the headgear is fitted correctly and check that your mask is assembled correctly.
Staff Review
Our awesome team at Sleep Resolutions are always encouraged to give patients honest feedback about all the equipment we recommend to patients. We work alongside patients daily, and we help patients find the right mask for them.
Nichole Roche, our DME technician notes, "I think it has many good features. The best feature, in my opinion, is the easy click magnets make fitting a breeze, but it is also a great benefit for the ease of the mask user. There are other benefits to this mask such as a soft frame, clear field of vision, and it was designed to tolerate a higher pressure."
Andrea Richter, COO, says, "This is a great mask if you prefers a pillow mask, the one complaint I hear about this mask is the headgear wears out rather quickly. There are no significant adjustments on this mask so when the headgear wears out the mask will loosen; however, ResMed has made clips to put on the headgear to tighten it up when this happens. But you only get those clips when buying the full mask set-up, if they only get the headgear, the tightening clips do not come with it. Also, this mask offers the fewest marks on the face in the morning."
If you are experiencing symptoms of obstructive sleep apnea or are concerned that someone close to you is suffering from obstructive sleep apnea, find a sleep medicine provider today.
Sleep Resolutions offers a free sleep assessment. FREE! There's nothing to lose, except for another good night's sleep from not calling.