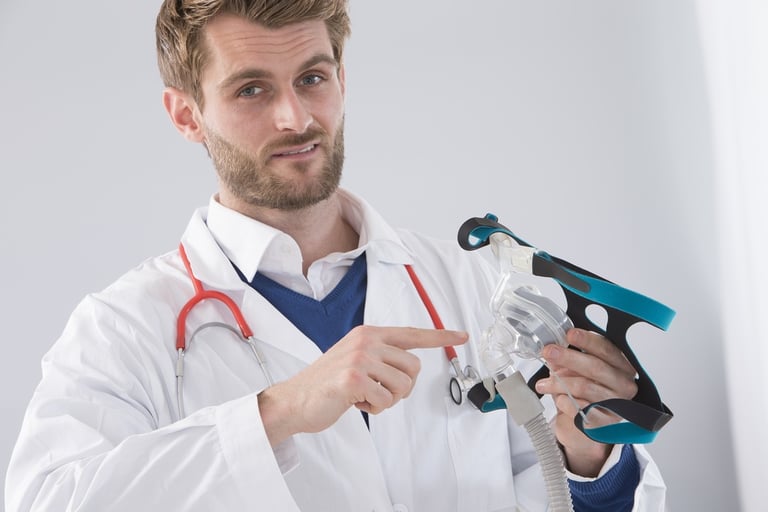 If your CPAP mask breaks, don't worry! Sleep apnea masks are not meant to last forever. In fact, for your health masks need to be both cleaned and replaced on a regular basis. Insurance companies and DME (durable medical equipment) companies know this and have a system in place to get you what you need so you can continue your therapy uninterrupted.
Replacing your CPAP Mask: Recommended Schedule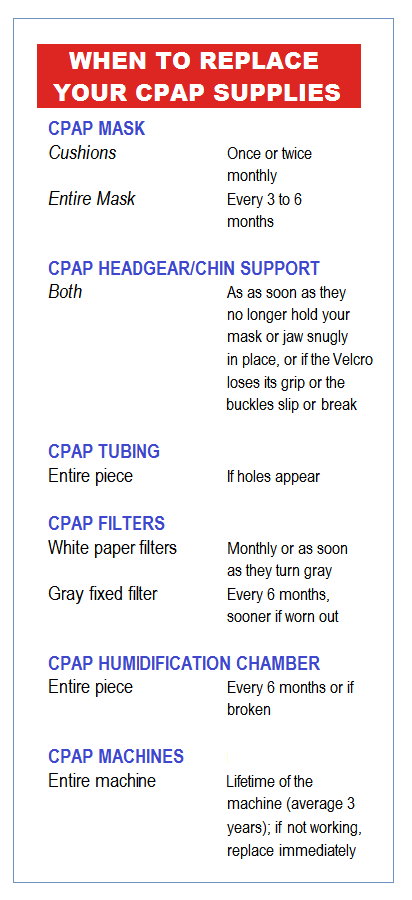 CPAP masks are designed to be disposable. In fact, your entire mask should be replaced every three to six months.
If you've had yours that long or longer, congratulations! You may be entitled to a new mask.
When you speak to your DME supplier, be sure to ask whether you're due for a mask replacement and what your options are for getting the best apnea mask for your needs.
Talk to your supplier about scheduling regular deliveries, too. All sleep apnea supplies have a recommended replacement and maintenance schedule.
If you have insurance that covers your apnea therapy, make sure your insurance company has a valid supply prescription on file with your DME supplier. Then talk to your DME suppy representative about having parts mailed to you automatically when it's time for a scheduled replacement or update.
Auto-deliveries like this take the guess work out of re-ordering supplies. You'll always have the replacement parts you need. Receiving a new CPAP mask on a regular basis also reduces the chance that your current mask will break unexpectedly.
Parts of the CPAP Mask
Your CPAP sleep apnea mask has several different parts, all of which can be replaced by your DME supplier. They are:
Headgear/Chin Support. Headgear is the system of straps that go around your head to hold your mask in place. Your chin support is the optional attachment that helps to keep your mouth closed when you're wearing your mask. If for any reason your headgear or chin support no longer stay firmly in position, it may be time for a replacement. Common reasons for requesting new headgear include broken buckles, stretched-out or loose strap material, or Velcro that no longer holds its grip.


Headgear straps and buckles (see blue parts, above) can crack, tear, or stretch out, requiring replacement.

Cushioning. The silicone cushioning on your mask can break down, losing its shape or developing cracks, tears, or holes. These changes affect the fit of your mask and the tightness of its seal. Most CPAP users replace their cushioning on a near-monthly basis.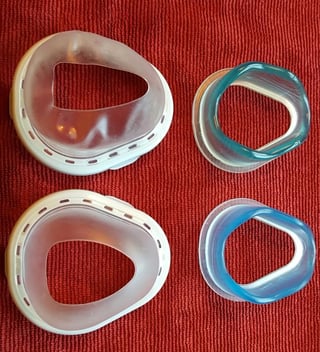 Examples of worn cushioning (top) and new cushioning (bottom).
Connectors. Sometimes, the tube-shaped connectors that join the CPAP mask to its tubing become cracked, which can lead to air leaks. If you see a crack or other damage in your connector, you should replace it immediately.
Protocol for Getting Your Mask Fixed or Replaced
If any part of your sleep apnea mask breaks, here are the steps required to repair or replace the broken parts or to get a new mask altogether:
Contact your sleep center or CPAP supplier. To order CPAP supplies and replacements from Sleep Resolutions, for example, you can fill out a supply request form.


Indicate which CPAP supplies you'd like to order. When calling in your order or filling out your re-order form, tell your customer service representative if you want a new CPAP mask, CPAP tubing, CPAP Filters, CPAP water chamber, or a CPAP machine. If you have the opportunity to explain further, specify why you're requesting the new part. Is the item worn? Did the part break unexpectedly? Or is the replacement indicated by your recommended CPAP maintenance schedule?


Talk to a DME specialist. Ordering your CPAP supplies may require a separate phone call with a specialist who will determine what supplies you need and whether or not your insurance covers their cost. If you've filled out a form with Sleep Resolutions, for example, you can expect a phone call back from a DME specialist.
Why a Broken CPAP Mask Needs Immediate Attention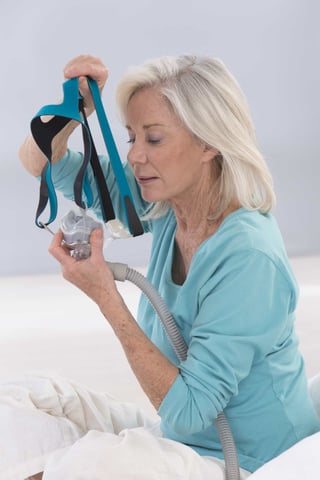 Like any piece of medical equipment, a CPAP mask does not last forever. Even if you maintain your CPAP equipment properly and clean it often, parts can become worn with time and use.
When this happens, don't let too much time pass before you request a replacement. Starting up your CPAP therapy after a long lapse can be difficult and may require re-training yourself to wear a mask.
If you can, re-order your replacement parts as soon as your mask has broken. (Many times, replacements may arrive within 48 hours.) Remember, complying with your sleep apnea therapy reduces your risk of developing a number of serious conditions, including heart disease, hypertension, stroke, and depression.
Just like wearing your CPAP mask, getting the supplies you're entitled to receive, promptly and on a regular schedule, is part of your commitment to your health and longevity.