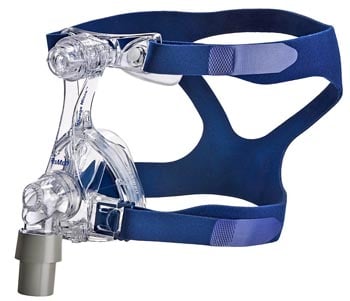 Sleep Resolutions is founded on the trust and caring we have for all our patients. We believe knowledge is the key to ensuring your successful treatment for your obstructive sleep apnea.
After going through a sleep study and receiving the formal diagnosis of obstructive sleep apnea, many patients begin pursuit of information. They want to know how OSA impacts them, what they can do to prevent the short and long-term side effects, and most importantly, how their lives will be affected by their sleep therapy.
This is precisely why we provide you with reviews of the equipment, informative articles, and our philosophy of treating patients' individual needs. An informed CPAP user is more likely to be successful. We want you to be successful!
Here is another review of one of the nasal masks made by ResMed, the Mirage Mirco nasal mask.
Mirage Micro Specifications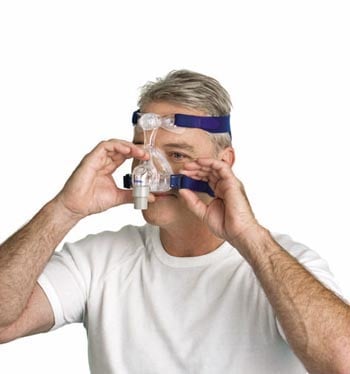 Your doctor needs to know the specifications of each mask to be able to make an informed recommendation for you. The different types of masks offer a variety of specifications. The technical specifications of the Mirage Micro are listed below.
This nasal mask features:
Therapy pressure between 4 to 20 cm H20

Operating temperatures between 41 to 104 degrees F (5-40 degrees C)

Operating humidity between 15% to 95%

Dimensions 140mm' (H) x 91mm (W) x 93mm (D)

Service life is dependent on the care, intensity of usage, maintenance, and environmental conditions in which the mask is used in and stored.

Dead space is the empty volume of the mask to the end of the swivel.
The Mirage Swift II has a dead space of 128mL.
ResMed does not use any hazardous materials when making their masks. It can be disposed of in your normal daily refuse. It should also be noted that it should be stored in a dry and cool place out of direct sunlight.
Pros of the Mirage Micro Nasal Mask
Versatility. This nasal mask offers wearers 24 different positions. With so many different options, there is something for everyone. Patients can optimize the fit of this mask for the most comfortable night of sleep.
It has a Microfit dial for fine-tuning adjustments to suit individual preferences.
It's extremely quiet. This mask vents air away from you and your sleep partner.
It provides visual freedom. You can wear glasses, watch tv, or read a book while wearing your mask. If you are someone that reads in bed or enjoys a show just before bed, this mask accommodates you.
Troubleshooting
Every mask has the potential for issues. It can be frustrating, as a patient, when these issues occur. One way to make sure that your mask is working at its best is to know how to fix issues as they arise.
Poor Seal or Uncomfortable Seal
Check the fitting of the mask. The correct fitting and adjustments are typical solutions to uncomfortable or poorly sealed masks. Follow the instructions to make sure and remember that your mask should be firmly against your face but not causing any pressure. Pro tip: It should be snug like yoga pants.
The cushion can become skewed during assembly. Check the cushion. Ensure that it is correctly installed according to the instructions. The cushion alignment can also cause a poor seal. Creases in the cushion will cause air leaks.
Clean your cushion. Dirty cushions can cause poor seals or an uncomfortable seal. Clean your cushion according to the cleaning instructions.
If nothing seems to fix the issue, you may have the wrong sized cushion. Talk to your sleep medicine provider or DME tech about getting a corrected sizing.
Noisy Mask
If you notice that your mask has become noisy or there's been a change in the noise level, there could be an issue with the mask's assembly. Disassemble your mask and reassemble while following the instructions.
A blocked vent can create additional noise while using your mask. Clean the vents using a soft-bristled brush.
Discomfort
When the dial is inserted into the mask before the mask frame before the forehead support it will be uncomfortable. This is a simple fix. Disassemble your mask and reassemble you mask following the instructions.
Staff Reviews
The staff at Sleep Resolutions will give you their honest feedback regarding any mask.
Andrea Richter, COO at Sleep Resolutions, has been working with patients on CPAP for more than ten years. She has a great deal of experience with CPAP masks and works with patients daily to get them set up and troubleshoot issues. Below is her review of the ResMed Mirage Micro:
"This mask is obsolete. I have a few patients who still love this mask and would swear by it. I do not believe we can get parts for this mask anymore. It has a forehead brace which is adjustable, it has a dial on the forehead that you can spin in and out to apply more or less pressure to the bridge of the nose and the upper lip. This dial changes the angle that the mask sits on your face ,and this can be a game changer for some people. The Activa LT has this feature as well."
If you have any other questions or concerns about the Mirage Micro or any other sleep-related topic, feel free to reach out to us here at Sleep Resolutions. We work alongside with our patients to ensure the most effective and consistent sleep therapy possible.