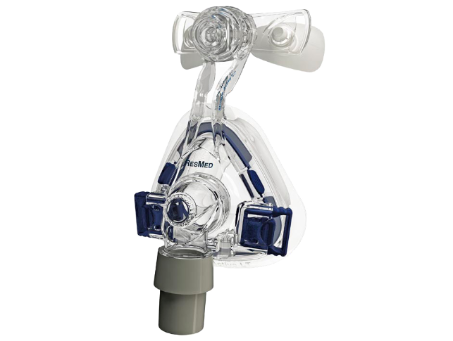 Once you have been diagnosed with obstructive sleep apnea (OSA), the next step is treating your disorder.
It's difficult to list all the benefits of treating OSA because it can impact every patient is a unique way.
Treating your OSA will alleviate the immediate symptoms such as snoring, feeling tired all the time, morning headaches, and lack of energy. Another significant benefit to treating your OSA is the health benefits.
OSA is linked to high blood pressure, type II diabetes, metabolic syndrome, liver problems, and many more concerning physical health problems. The longer you suffer from OSA the more pronounced your symptoms may become.
Having the best fitting equipment can really make a difference in your success in consistent and continuous sleep medicine therapy. If our patients, at Sleep Resolutions, find themselves being uncomfortable while using their CPAP machine, we will work with you to find a more comfortable solution.
We review the equipment that we recommend to our patients because we want to make sure that you have all the information before making a purchase.
Here is our review of ResMed's Mirage Activa LT Nasal Mask
Specification
The Mirage Activa LT is part of ResMed's ConvertAble series. There is the option to choose between two of their performance cushions for the same frame.
Therapy pressure between 4 to 20 cm H20

Operating temperatures between 41 to 104 degrees F (5-40 degrees C)

Operating humidity between 15% to 95% non condensing

Dimensions 5.55''-6.06'' (H) x 3.58''-3.74'' (W) x 4.21''-4.6'' (D)

Service life is dependent on the care, intensity of usage, maintenance, and environmental conditions in which the mask is used in and stored.

Dead space is the empty volume of the mask to the end of the swivel; when using the large cushions, it's 185mL.
ResMed does not use latex, PVC or DEHP materials in the making of this mask.
Pros of the Mirage Activa LT Nasal Mask
The cushion is designed for frequent movement. It self corrects to your movements throughout the night to maintain a quality seal.
Easily adjustable. It has adjustable straps that are simple to customize to the individual user.
Fits a wide range of users. Despite its small size, this nasal mask accommodates many different facial shapes and contours.
Comfortable. There are cushions along the straps to provide comfort throughout the night.
It maintains a quality seal even with facial hair.
Troubleshooting
Every nasal mask can have common issues that arise with continued use and wear. We like to provide patients with solutions to those issues beforehand.
Mask is Uncomfortable
Making sure you have the right adjustments on your straps can ensure a comfortable fit Adjust the straps so they are even and the forehead support should sit firmly on your forehead.
The cushion might not be inflated correctly. Turn the air off and adjust the straps so you can insert two fingers between your cheek and the lower headgear strap.
Noisy Mask
The cushion clip may be inserted incorrectly. Check that the cushion clip is correctly inserted into the cushion and that the cushion is clipped into the frame. Follow the instructions provided with your mask to ensure you are correctly assembling your mask.
Port cap or the elbow needs to be correctly inserted. If the ports cap or the elbow are not correctly inserted there will be air leaks.
The vents are blocked and need to be cleaned. Follow the instructions for cleaning your mask at home to ensure the vents are free from debris or buildup. Always use a soft bristle brush.
Improper Fit
Occasionally, a mask may be fitted incorrectly. Make sure that your sleep medicine provider uses the measurement guild to fit this nasal mask to you. If you feel like you have the wrong sized cushion, speak to your provider as soon as possible.
Check that your mask has been properly assembled. An incorrect assembly can cause an uncomfortable fit. Reassembly following the instructions provided.
Clean your cushion. An unclean cushion can cause an improper fit. Maintaining the cleaning routine is critical to preserving and extending the life of your equipment.
Staff Review
Of course, not only do we provide the best Sleep Medicine care for our patients, we have the best staff around. Our team is highly educated and informed with all things sleep! They provide their honest and personal opinions to the equipment we recommend to our patients.
Andrea Richter, Sleep Resolution's COO, has worked with settling up patients with their CPAP equipment for more than ten years. She has been a great asset to our patients and an incredible presence within our team. Her review of this mask is below.
"This is what is called an active cell mask. You can get a seal on this mask with almost any patient and almost any pressure. You can also feel the mask move as you breathe in and out (active cell on the cushion). As far as nasal masks go, this is the one you would call "Old Trusty". The cushions are interchangeable with a SoftGel cushion. These mask frames can be heavy feeling on the face, especially with the softgel cushion."
If you want to find out more information about ResMed's Mirage Activa LT or any other sleep medicine equipment, feel free to reach out to us.