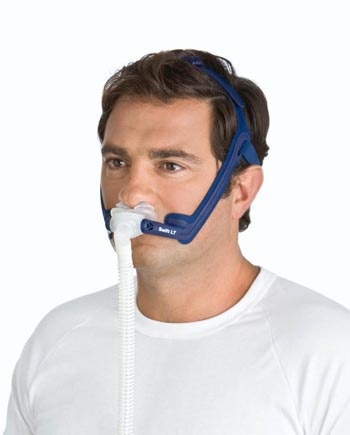 When it comes to the world of sleep medicine, there are so many new and exciting advancements all the time. Sleep medicine equipment such as CPAP/BiPAP/APAP machines, face masks, nasal pillows, nasal masks, the list goes on, are always changing to meet the needs of patients.
Having a trained and educated sleep medicine team on your side is key to knowing all the latest and greatest technologies and the effectiveness of what has already been proven.
Sleep Resolutions has some of the best-trained staff that have been working in the sleep medicine industry for decades. We continue to research new models of equipment, talk to our patients about their experiences, and apply new studies and information when it comes to treating our patients.
Many of our patients come to us for help treating their obstructive sleep apnea (OSA). They feel tired all the time, struggle with daytime drowsiness, have breaks or pauses in their breathing, have high blood pressure, maybe wake up with headaches, and sometimes struggle with depression. Our patients need solutions and fast!
We work around the clock to make sure we are providing our patients with the most effective treatment available to us. The most common treatment for OSA is CPAP therapy, although there are alternatives such as surgery, an oral dental device, and weight loss programs.
One way we make sure that our patients are receiving the best treatment possible is by reviewing the equipment that's available and guiding our patients towards the masks or pillows that we know are both effective and quality.
Here is our review of ResMed's Swift LT Nasal Pillow.
Swift LT Nasal Pillow Specifications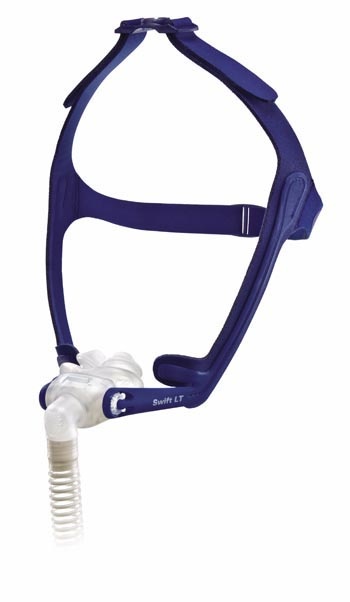 Nasal pillows are the smallest and most lightweight way to treat OSA. The Swift LT is no different. It's lightweight and provides a quick and easy fit for each patient.
This nasal mask features:
Therapy pressure between 4 to 20 cm H20

Operating temperatures between 41 to 104 degrees F (5-40 degrees C)

Operating humidity between 15% to 95% non condensing

Noise emitted at 25 dBA (uncertainty of 3 dBA)

Dimensions 380mm (H) x 57mm (W) x 62mm (D)

Service life is dependent on the care, intensity of usage, maintenance, and environmental conditions in which the mask is used in and stored.

Dead space is the empty volume of the mask to the end of the swivel. The Swift LT has a dead space of 94 mL.
ResMed does not use BPA, PVC, DEHP, phthalates, or natural rubber latex in the making of the Airfit N10 nasal mask.
Pros of the Swift LT
One of our favorite features of this nasal pillow is that there is no forehead support. The head straps fit over the top of the head and across the back making this ideal for patients that struggle with high facial contact.
The barrel on the pillow rotates. You can adjust the angle to find the best comfort position for you. These slight adjustment can really make for an ideal seal that lasts throughout the night.
The Swift LT is very quiet. If your CPAP machine makes too much noise for you or your partner to sleep at night, this might be ideal for you. It only expels 25 decibels of sound, or for a comparison, it's as loud as leaves being rustled in the wind.
The Swift LT has been upgraded from previous models to cut 50% of its previous width; great news for side sleepers not wanting their mask to get knocked out of place by their pillow.
Troubleshooting
The Swift LT may be the perfect mask for you but each and every patient has their own unique therapy needs. Since the Swift LT is designed to be adjusted to fit correctly, there can sometimes be issues that arise. Understanding how to correct those issues can make a big difference in your comfort with this nasal pillow.
Poor/Incorrect/Uncomfortable Seal
It's possible that the pillow wasn't fitted correctly from the beginning. Check with the instructions on fitting your Swift LT to see if its a fit or size problem. Make sure that the head stapes are overtightened or under tightened. Make sure that the ResMed logo is facing outwards.
If you feel like the pillow is the wrong size, you will need to speak to your sleep medicine provider as soon as possible to get a corrected size.
Sometimes the cushions on the pillow can become creased or indented during storage or washing. Look at the cushions and if you see a crease or a dent, squeeze the cushion until the crease releases.
Noisy system
If you find that the system is louder than rustling leaves or a whisper, the system might need to be disassembled and reassembled. Follow your instructions and make sure that each step is followed correctly and that the pillow is fully inserted into the frame. If the pillow isn't fully sealed it causes an air leak and you'll experience additional noise.
Staff Reviews
Again, our staff works hard to provide our patients with our most honest thoughts, feedback, and perspectives about the equipment we recommend.
Andrea Richter, Chief Operating Officer, comments about this mask, "This is an older mask, there have been several new generations of the mask created since this mask (Swift FX and the AirFit P10). It has a structured frame and a clip that snaps on the top of the headgear to hold your tubing over your head. This allows for more movability during sleep. I like this mask because of the different adjustment options; however, too many adjustment options can be a bad thing for some patients. For simpler use, the newer designs have fewer adjustment options."
Nicole Roche, Durable Medical Equipment Technician, doesn't favor this mask as much as others but writes, "I do not like this mask. It seems to me to be constricting and is not very movable/pliable. It also has the option to suspend the tubing over the head which you do not see on many mask systems."
Finding the right equipment can mean a difference when it comes to your compliance with your sleep therapy. Here at Sleep Resolutions, we don't want you to feel alone in this journey. If you or someone you care about is struggling with their CPAP equipment, click on this link and one of our DME techs will reach out.