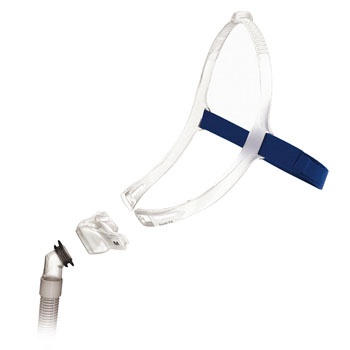 Obstructive Sleep Apnea has become relatively common in the United States. In fact, more than 3 million Americans are diagnosed every year. With numbers like these, there are more and more sleep medicine providers, products, and treatment options available.
Sleep Resolutions ensures that our staff has the most up to date training and knowledge available. Our informed staff highlight the importance of being an educated patient. The more you know about your obstructive sleep apnea, the better you understand what is going to work for your therapy.
It can be challenging to navigate all the different CPAP machines, masks, and accessories all on your own. We work with a variety of CPAP equipment on a daily basis with our patients. Our wonderful staff is always willing to share their honest thoughts about any of the equipment you are looking at to treat your obstructive sleep apnea.
Here is our complete review of ResMed's Swift FX Nasal Pillow.
Swift FX Nasal Pillow Specifications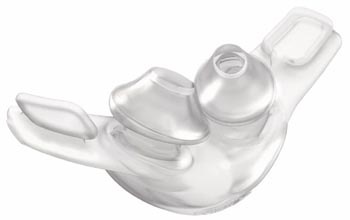 Therapy pressure between 4 to 20 cm H20

Operating temperatures between 41 to 104 degrees F (5-40 degrees C)

Operating humidity between 15% to 95% non condensing

Dimensions 16.34'' (H) x 3.70'' (W) x 1.77'' (D)

Service life is dependent on the care, intensity of usage, maintenance, and environmental conditions in which the mask is used in and stored.

Dead space is the empty volume of the mask to the end of the swivel; when using the large cushions, it's 106mL.
ResMed does not use latex, PVC or DEHP materials in the making of this mask.
Pros of the Swift FX Nasal Pillow
This nasal pillow has a minimalist design to have the least amount of mask touching your face; reducing the potential for leaving ugly red marks the following morning.
There are four size options available making it easy to get a customizable fit. ResMed provides a sizing template that can be used to ensure the appropriate size for you.
This nasal pillow is ideal for back and side sleepers. It is designed to fit instantly; providing the wearer with a snug fit that follows the curves of your face.
The nasal pillow has a dual-wall design that features a flexible cushion to maintain a seal without limiting motion throughout the night.
The Swift FX Nasal Pillow is compatible with any CPAP, BiPAP, or APAP machine without a special connector.
Troubleshooting
If you are new to using a CPAP, BiPAP, or APAP can take some time to adjust. Adjusting for the first time, or adjusting to a new style of sleep mask can bring about challenges. Some of those challenges may be related to the specific mask, machine, or accessory that you are using.
Our belief at Sleep Resolutions is that knowledge is power, so we like to provide you with the solutions to those common issues you might run into with the Swift FX.
Uncomfortable, Red Marks, or Improper Seal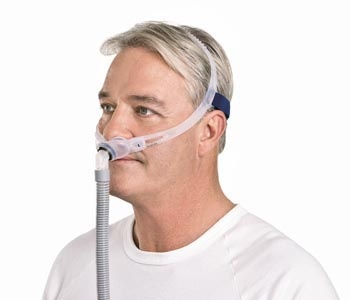 The pillows may not have been fitted correctly. Always make sure that the ResMed logo on the pillow is on the top facing outwards. Then re-adjust your headgear to ensure it isn't too loose or too tight.
Another common issue for the pillow is that the inner wall of one, sometimes both sides, isn't correct or collapses. You can squeeze the pillow gently with your fingers to release the inner wall. The corrected position can be observed in the instructions.
If your nasal pillow gets dirty it can impact its function. Refer to the instructions to properly clean your pillows.
The pillows may be the incorrect size. If you feel that the nasal pillow is too large or too small, talk to your sleep medicine provider about getting the correct size.
Noisy Mask
If you notice that the Swift FX Nasal pillow has increased in noise emitted, there may be an issue with how the system is assembled. Disassemble the entire system and reassemble according to the instructions provided with your mask.
An air leak may also cause a change in the noise given off while using the machine. Try refitting and repositioning the mask.
A blocked vent can cause additional noise. Clean the vent with a clock with a soft bristle brush.
If for any reason you continue to have issues with a noisy mask, improper seal, discomfort, or any other concern, reach out to your sleep medicine provider as soon as possible.
Staff Reviews
We believe we have the best staff people around and we value their opinions on all things sleep. We asked our staff to provide some of their honest feedback regarding ResMed's Swift FX Nasal Sleep Pillow. Here's what they had to say.
"This is a good mask. Much like the Airfit P10, it is small in size and comfortable. What makes this mask nice and different from the newer P10 is that you can adjust the headgear for added comfort and to get the level of snugness that works for the individual." – Nichole Roche, DME
"Older version of the P10, number one complaint is the headgear slides up during the night. Still a good pillow mask, especially for folks who have hair they can pull through the back strap to help from sliding." – Andrea Richter, COO.
Our staff, here at Sleep Resolutions, is available to set up a one-to-one phone appointment for free to discuss your specific and individual sleep care needs. Simply click the link below to schedule your appointment.