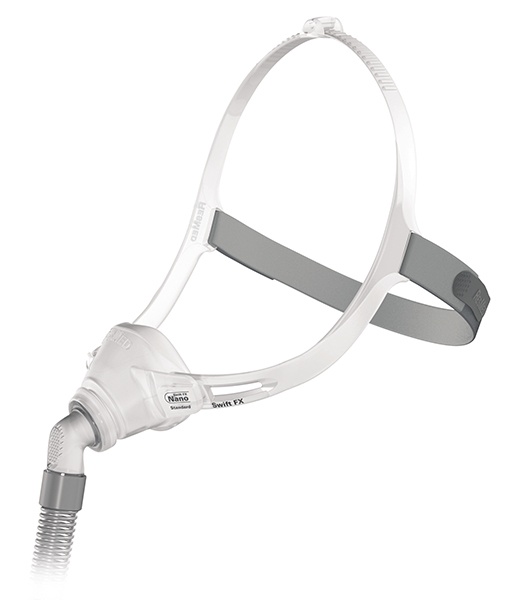 Daytime sleepiness, fatigue, insomnia, frequent waking during the night, morning headaches, irritability, memory loss, decreased sexual desire, and many more, are just some of the symptoms associated with obstructive sleep apnea.
If you experience these symptoms or your partner has expressed concerns about your sleep patterns, it may be time for you to seek out a sleep medicine provider.
Obstructive sleep apnea is more than a sleep disorder. Sleep apnea can cause long-term, negative consequences such as high blood pressure, heart disease, stroke, pre-diabetes, diabetes, depression, and impact other parts of your body.
OSA causes you to stop breathing during your sleep, reducing the amount of oxygen provided to your lungs and brain. In the short-term, the lack of oxygen to your body can cause sleepiness, feeling tired in the morning, and daytime fatigue. In the long-term, more serious health problems can occur.
Reach out if you have concerns, have had a family member express concerns, or are experiencing the symptoms to OSA. Being diagnosed with OSA is the first step to a better night's sleep and overall a healthier you.
One thing that we do here at Sleep Resolutions is to help you understand how OSA impacts you, and how to ensure that your sleep therapy is geared to address your individual needs. Wearing a CPAP mask will undoubtedly take some time to adjust to wearing and we want to make sure that you have the most comfortable experience possible.
One way we do that is by reviewing the sleep masks we recommend to our patients. Here is our review of ResMed's Swift FX Nano Nasal Mask.
Swift FX Nano Specifications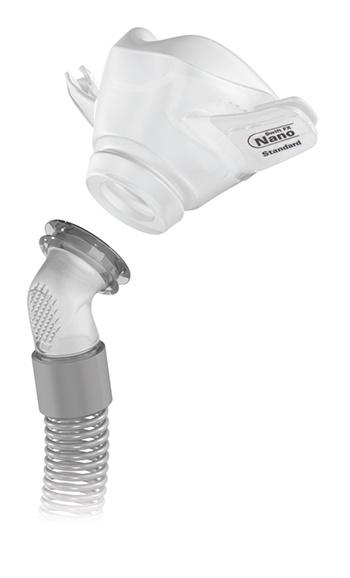 ResMed Swift FX Nano has the same headgear and tubing as their Swift FX. It has a small design but provides an excellent seal.
This face mask features:
Therapy pressure between 4 to 30 cm H20

Operating temperatures between 41 to 104 degrees F (5-40 degrees C)

Operating humidity between 15% to 95% non condensing

Dimensions range depending on size:

Small 16.9'' (H) x 3.94'' (W) x 2.95'' (D)

Standard 16.9'' (H) x 4.09'' (W) x 2.95'' (D)

Wide 16.9'' (H) x 4.49'' (W) x 2.95'' (D)

Service life is dependent on the care, intensity of usage, maintenance, and environmental conditions in which the mask is used in and stored.

Dead space is the empty volume of the mask to the end of the swivel. For this mask it's 125mL.
ResMed does not make this mask with any BPA, PVC, DEHP, phthalates, or natural rubber latex.
Pros of the Swift FX Nano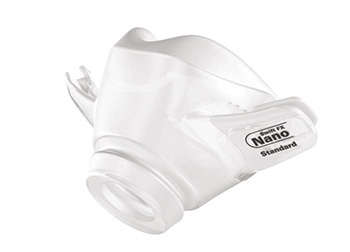 This nasal mask is designed to be lightweight and durable. It offers an easy fit with an adjustable head strap.
The nasal mask has no hard plastic parts. It is a soft plastic, providing a firm seal but allows for side to side movements. Making this ideal for side sleepers and eliminates facial marks.
Again, because of the soft plastic design, this mask seals well, even without the ideal fitting.
This simple design makes this mask easy to clean which saves time in the mornings.
Troubleshooting
Each mask has its own unique design and features. Sometimes there are common issues that arise because of the design of the mask when it's working with the unique characteristics of each patient's face. Having an understanding of those issues upfront can help to ensure you get the most effective sleep therapy.
Here are some of those common issues.
Noisy Mask
This mask has a venting system that can become blocked with debris. A blockage or partial blockage of the venting system can create additional noise. Simply use a soft bristle brush, such as a toothbrush, and clear the vent and the area around the vent.
Another potential cause of the additional noise could be an incorrectly inserted elbow. Follow the instructions provided and remove the elbow and then re-insert the elbow. The Swift FX Nano's elbow has a swivel ring that could be inserted too far or not far enough.
The most typical culprit of a noisy mask is air leaks around the seal. Try to refit your nasal mask according to the instructions and readjust the head strap. Double check that you assembled the mask correctly.
Air Leaks Around Face
Always check to make sure that the mask is assembled according to the instructions. The ResMed logo should be readable.
Attempt to reposition the mask. The lower corners of the mask should fully enclose around your nose. The top strap should bring the mask to the correct place and the back strap should pull the mask closer to your face. Straps that are too loose or too tight can cause discomfort and air leaks.
The cushion membrane can become folded or creased during fittings. Check to make sure that the membrane is not folded or creased, as it will cause air leaks.
Improper Fit
If you are unable to adjust or fit the mask to achieve a proper seal against your face, check with your sleep medicine provider. There are sizing options that could provide you with the ideal fitting.
Clean your mask after each use. A dirty mask can cause an incorrect seal and improper fitting of the mask.
Staff Review
Again, Sleep Resolutions' staff reviews the equipment that we recommend to our patients.
Andrea Richter, COO, has been working with CPAP patients for more than 10 years and is one of our most experienced with CPAP masks. Our patients frequently reach out to her for help with troubleshooting problems. Her personal review of this mask is below.
"This mask has the same headgear as the Swift FX pillow mask, but instead of a pillow, it's a nasal cushion. It's a good design, the biggest drawback on this mask (and why I never and will never push this mask) is per the FDA, you cannot get a replacement cushion for this mask. You can only get a new frame (which comes with a free cushion) every three months. (if you need further explanation on the replacement guide for supplies please let me know)."