When most people think about obstructive sleep apnea (OSA) they think of a large necked overweight man that snores so loud he wakes the neighbors. In reality, that description fits some of our sleep therapy patients but certainly not all of them.
Obstructive sleep apnea can affect anyone of any weight, neck size, and gender. More and more women are being treated for sleep apnea in part due to the more the industry is learning about OSA. The symptoms of OSA present differently in women when compared to the previously believed classic signs.
The industry is filling the need for more masks geared for women. Sleep Resolutions has highly trained staff and fully equipped to help women address their OSA and find the right mask. Here is a review of one of those masks made by ResMed, the Swift LT for Her.
Specifications
Nasal pillows are the smallest and most lightweight way to treat OSA. The Swift LT is no different. Its lightweight design provides a quick and easy fit for each patient.
This nasal mask features:
Therapy pressure between 4 to 20 cm H20

Operating temperatures between 41 to 104 degrees F (5-40 degrees C)

Operating humidity between 15% to 95% non condensing

Noise emitted at 25 dBA (uncertainty of 3 dBA)

Dimensions 380mm (H) x 57mm (W) x 62mm (D)

Service life is dependent on the care, intensity of usage, maintenance, and environmental conditions in which the mask is used in and stored.

Dead space is the empty volume of the mask to the end of the swivel. The Swift LT has a dead space of 94 mL.
ResMed does not use BPA, PVC, DEHP, phthalates, or natural rubber latex in the making of the AirFit N10 nasal mask.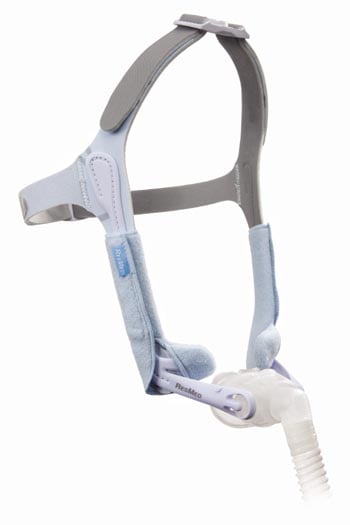 Pros of the Swift LT for Her
Price. No pink tax here. The Swift LT for Her is based on the Swift LT design but is adapted for a women's preferences, physical contours, and, yes, it comes in a "girl" color.
No forehead support. There is not a strap across your forehead, therefore, no lines or indents when you wake up in the morning.
Comfortable straps. The straps are soft and form to the contours of your face.
Adjustable fit. The barrel on this nasal pillow rotates. You are able to find the best seal possible with the multiple positions it offers. The straps adjust quickly for a comfortable fit for every use. You will have to readjust your Swift LT for Her at each use
Design. Again the design is catered specifically for a woman's face and the frame is slender. This is an ideal mask for side sleepers as there is less facial contact with the frame.
ResMed's "Whisper-Quiet" Comfort. Hang with me here. ResMed developed there own names for their unique designs on their equipment. But this mask emits at 25 decibels. That would be the equivalent of experiencing a quiet library or a mellow paced walk in the fall. Really, it's pretty quiet compared to other masks and pillows.
Hair. They really did think of everything with this one. The supporting back strap that runs behind the head was placed with the idea of how woman wear their hair while sleeping. You are able to get your hair above or below the strap. Nifty.

Troubleshooting
The Swift LT may be the ideal mask for you but each and every patient has their own unique therapy needs. Since the Swift LT is designed to be adjusted to fit correctly, there can sometimes be issues that arise. Understanding how to correct those issues can make a big difference in your comfort with this nasal pillow.
Poor/Incorrect/Uncomfortable Seal
It's possible that the pillow wasn't fitted correctly from the beginning. Check with the instructions on fitting your Swift LT to see if its a fit or size problem. Make sure that the head stapes are overtightened or under tightened. Make sure that the ResMed logo is facing outwards.
If you feel like the pillow is the wrong size, you will need to speak to your sleep medicine provider as soon as possible to get a corrected size.
Sometimes the cushions on the pillow can become creased or indented during storage or washing. Look at the cushions and if you see a crease or a dent, squeeze the cushion until the crease releases.
Noisy system
If you find that the system is louder than rustling leaves or a whisper, the system might need to be disassembled and reassembled. Follow your instructions and make sure that each step is followed correctly and that the pillow is fully inserted into the frame. If the pillow isn't fully sealed it causes an air leak and you'll experience additional noise.
Troubleshooting
One thing that we find is that woman seem to ask the most questions about their equipment up front. We love answering our patients' questions and making sure they are thoroughly informed on the entire process.
One major area we always try to review with our patients is troubleshooting their equipment. However, most of the information does really sink in until you are confronted with the issue. Typically, those issues happen right at bedtime when you may not have access to your sleep medicine provider and you are left to roam the world wide web instead of settling down for a night of rest.
Final Thoughts
Sleep Resolutions is here to help you along your way on your sleep medicine journey. If you have any questions about this mask or others feel free to reach out to our highly knowledgable staff. We are here to help!