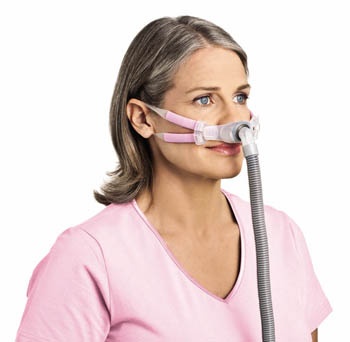 According to the National Sleep Foundation, obstructive sleep apnea, or OSA, is diagnosed in both women and men. Men, however, are typically diagnosed eight times more frequently than women. Many women don't realize their symptoms will manifest differently from their male counterparts.
Common symptoms of sleep apnea include snoring, gasping, frequent pauses in breathing, and drowsiness. but did you know men will frequently display these symptoms more? Women may not present with these classic symptoms. This means that many women may go undiagnosed with sleep apnea for an extended period of time.
Women may have sleep apnea even in the absence of snoring. Women may frequently present with other symptoms such as:
Insomnia

Fatigue

Depression

Leg Restlessness

Frequent nighttime urination (Nocturia)
If you are a woman who presents with any of the above symptoms, it might be in your best interest to look into obtaining a sleep study.
If you are diagnosed with sleep apnea, your physician may prescribe you CPAP therapy. You should know numerous options are available especially for women. This article will focus on a popular CPAP nasal pillow mask: the ResMed Swift FX Bella for Her.
Swift Fx Bella for Her Specifications: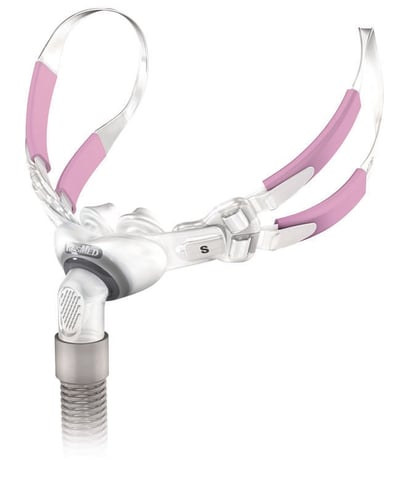 The Swift FX Bella is a nasal pillow, meaning it consists of two nasal inserts that are placed directly into the nostrils. Many of our patients favor the nasal pillow mask because it has minimal facial contact while maintaining position. This makes it an optimal mask for any sleep position.
Patients who prefer this type of mask include side sleepers and men with beards/mustaches.
This particular mask is minimally invasive and has a sleek design. It is lightweight and easy to fit the individual patient. Its super soft straps enhance comfort to the patient's face. This limited contact makes it easy for patients to forget they're wearing a CPAP mask at all!
Despite the simplicity of this mask, it offers unprecedented stability. The flexible design adjusts to face contours and movements. The dual-wall nasal pillows and a flexible cushion base will maintain an excellent seal even for the active sleeper. Quiet vents diffuse and direct airflow away from the patient and her partner, allowing for an uninterrupted, peaceful night's sleep.
The ResMed Swift FX Bella for her features the Bella loop accessories rather than the traditional headgear. This unique design is a user-friendly way to use CPAP therapy with a variety of hairstyles. The Bella loops are best suited for patients with detached earlobes, as the strap passes fully around the ear. The stretch of the Bella loops allows this mask to be worn with low to medium tension, increasing patient comfort.
The nasal pillows come in three simple sizes designed specifically for women: x-small, small, and medium. It comes in pink for. The mask uses Spring-Flex tubing, which is lightweight to minimize pull on the tubing. This allows enhances stability and decreases incidences of mask leaks.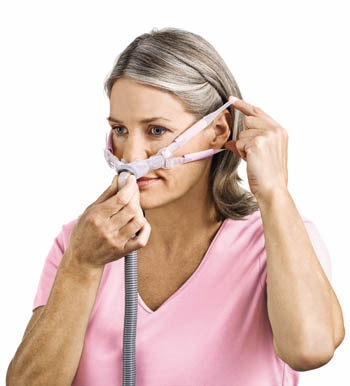 Troubleshooting
Why is my mask noisy?
If you are experiencing unusual noises from your mask, your parts may need to be cleaned. Start with examining the vent and cleaning it with a soft bristled brush. Another common source of excessive noise may be a leak. The nasal pillows may need to be repositioned and fitted to ensure a quality seal.
I am having discomfort with the nasal pillows?
A common issue is irritation from the nasal pillows. This is an easy fix! Usually, any discomfort is from using the wrong nasal pillow size. If you have issues finding which size is best for you, contact the staff at Sleep Resolutions for assistance.
When do I need to replace my parts?
For most effective therapy, your mask will require regular maintenance and part replacement. It is recommended to replace the nasal cushion when it is no longer clean and transparent.
If the cushion is cracked, torn, or damaged in any way, your seal will be compromised and the cushion needs to be replaced. As for the headgear loops, if they are stretched and need to be tightened more than when originally purchased, it may be time to replace these as well.
Staff Reviews:
Despite the minimal face contact and unique loop technology, this is not the most popular mask for our staff. Andrea Ritcher, COO, states:
"This is the same mask as the Swift FX but with a different type of headgear. This headgear loops around the back of the ears instead of around the head. We have several patients who like this headgear. But, others have stated it made their ears sore and very tender to the touch."
Nicole Roche, DME, states the following about the ResMed Swift FX Bella:
"This mask is very unique as it only has straps that go around your ears and changes the way we think of the traditional mask."
Final Thoughts
The mask is minimally invasive and can be worn by the restless sleeper. The ResMed nasal pillows offer comfortable and intuitive technology for all CPAP therapy patients.
Although not the most popular mask at Sleep Resolutions, it is a great option for those looking for a mask with minimal face contact. It may not be such a great match for those who have sensitive ears or those with attached earlobes.
If you would like to give this mask a try, click on the link below to speak with a DME technician.