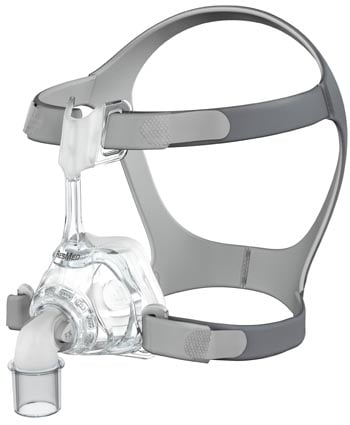 If you're like most patients who have been diagnosed with obstructive sleep apnea, you most likely have some level of anxiety about having to use a CPAP machine and wear a mask each night.
Many patients fear a bulky mask which will make them feel claustrophobic. They worry the mask will move off their face at night, constantly interrupting their sleep. They worry that the mask may leak, cause skin irritation, or even pressure sores.
Numerous advances in technology have occurred in recent years in the treatment of sleep apnea. Masks today are lightweight, secure, and extremely effective in delivering safe, at home CPAP therapy.
This article will review a popular nasal mask: The ResMed Mirage FX.
The ResMed Mirage FX is classified as a nasal mask. Nasal masks are one of three types of masks available for patients diagnosed with sleep apnea. The nasal mask covers the only the patient's nose to their upper lip bridge. Patients who may do well with a nasal mask include those who:
Prefer a more natural airflow

Are active sleepers

Are side sleepers

Require a higher pressure on their CPAP machine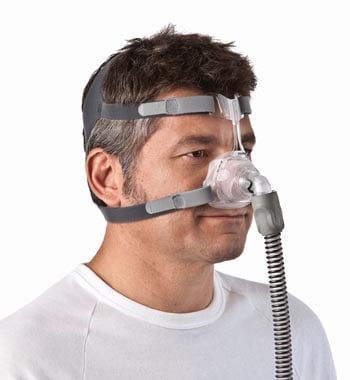 Mirage FX
Pros
The Mirage FX is a much loved and popular CPAP mask at Sleep Resolutions. It is a compromise of lightweight, user-friendly, and comfort.
Specifications
The dual-wall, spring air cushion incorporates a soft texture at the nasal bridge for even pressure distribution while reducing nasal irritation and discomfort. The squeeze tab elbow makes for easy attachment and detachment with only one hand. The expiratory vent is molded into the cushion, allowing quiet and gentle air disbursement.
The Mirage FX frame has an open concept that allows for a clear line of vision. This frame is durable enough to provide stability, while flexible enough to accommodate the movement of the user. The unique winged forehead support allows a wide range of fit and adjustment, as needed for the individual patient.
The Mirage FX features a unique, specially designed headgear. The textiles used to composite the headgear are both strong and flexible. The SoftEdge headgear design is made from a soft material, reducing facial pressure marks and irritation.
Another benefit is of the Mirage FX mask is compatible with all CPAP and BiPAP machines. No special adaptors are necessary to attach the mask to the machine's tubing.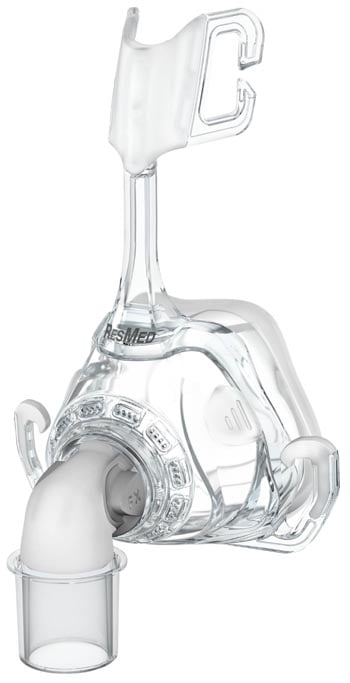 Mirage FX Cons
The Mirage FX is a nasal mask, meaning it works best for patients who can easily breathe through their nose. This mask will not work well for mouth breathers. Additionally, it is not an ideal mask for any patient who has difficulty breathing through their nose, such as those with a deviated septum. Additionally, patients with a history of recurrent colds or sinus allergies may experience difficulties in delivery of pressure.
Troubleshooting
My mask is too noisy
If you notice your mask is making more noise than usual, it is typically one of two things causing this problem. The first culprit may be that the mask's vent is partially or completely blocked. To fix this, simply clean the vent with a soft bristle brush. The other reason your mask may be excessively noisy is that the elbow is inserted incorrectly. If you identify this as the problem, remove the elbow and reinsert per the user manual instructions.
My mask is leaking around the bridge of my nose
This is a common problem which can easily be remedied by tightening the top headgear straps. Take care not to over tighten the straps, which can cause increased irritation and discomfort.
The mask is leaking around my face
The problem occurs when the mask is not positioned correctly on your face. To fix this, pull the mask cushion away from your face and allow it to reinflate. Then reposition your mask according to the user manual instructions.
Staff Reviews
Andrea, the COO at Sleep Resolutions, how this to say about the Mirage FX:
"This is a nasal mask with a very lightweight frame. Simple design and quite a few people really liked this mask. The FX line from ResMed has been replaced with the AirFit line. The forehead brace on this mask is not supposed to touch the skin but sit just a little off for less pressure on the bridge of the nose. Due to the lightness of the mask, folks with higher pressure tend to want to strap their mask down tight, in this case, they would cause leaks from creasing the seal of the cushion. This mask is great for a lower pressure patient."
Nicole Roche in DME at Sleep Resolutions writes this about the Mirage FX:
" This mask is very lightweight which is one of the biggest advantages. It also disconnects from the frame at the elbow. This is a nice feature. It is an older generation mask so not a go to, but I still consider it when I am looking for a smaller proportioned nasal mask."
It's easy to conclude this is a great mask option for a variety of patients. It's lightweight, user-friendly, and comfortable. If you're newly diagnosed with obstructive sleep apnea and looking for a mask, or a seasoned patient who is looking to change your treatment, don't overlook this mask. If you have any further questions, please contact the staff at Sleep Resolutions. We are happy to help you in your journey to a better night sleep.