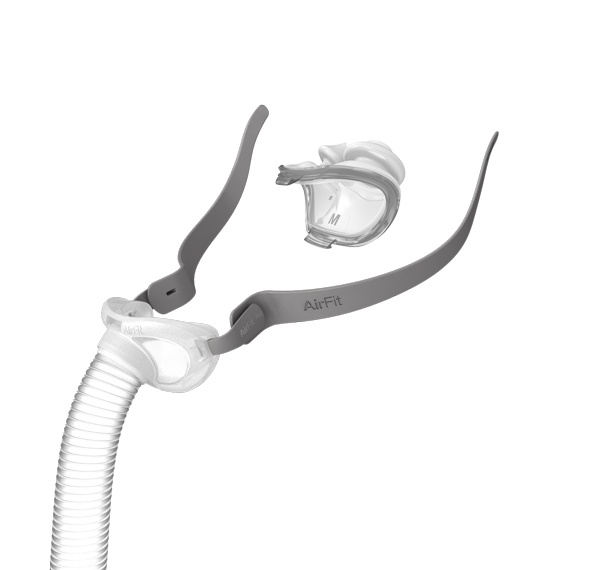 Finding the right sleep mask for treating your obstructive sleep apnea is critical to ensuring your comfort and compliance with your CPAP therapy. Sleep Resolutions works hard to make sure that all our patients have the right mask that meets those needs.
At Sleep Resolutions, we believe that a happy CPAP user is an informed CPAP user. We pride ourselves in providing the answers to any possible questions that you might have along the way.
All our staff is highly educated in the machines and devices available to our patients and we thought it would be helpful to put together a complete review of the CPAP machines, masks, and accessories.
Here is our review of ResMed's AirFit P10 AirMini Nasal Pillow.
AirFit P10 AirMini Specifications
The AirFit P10 AirMini is a nasal pillow mask that is noted to be lightweight, compact, and the smallest sleep therapy system available. This is an ideal travel mask system because of it size.
This nasal pillow mask features:
Therapy pressure between 4 to 20 cm H20

Operating temperatures between 41 to 104 degrees F (5-40 degrees C)

Operating humidity between 10% to 95% non condensing

Sound emitted at 22 dBA (uncertainty of 3 dBA)

Dimensions 6.89'' (H) x 5.87'' (W) x 1.46'' (D)

Service life is dependent on the care, intensity of usage, maintenance, and environmental conditions in which the mask is used in and stored.

Dead space is the empty volume of the mask to the end of the swivel when using the large cushions its 40mL
It should be noted that ResMed does not use PVC, DEHP, phthalates or natural rubber latex to make this mask. There are no hazardous materials used.
Pros of the AirFit P10 AirMini Nasal Pillow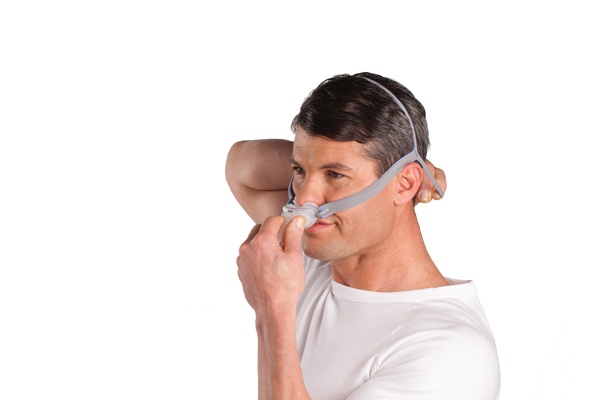 It features ResMed's QuietAir mesh ventilation design that guilds exhaled air away. It produces minimal sound and is noted as the quietest mask offered by ResMed.
The AirFit P10 AirMini is lightweight and has flexible and is very durable. The key-clip nasal pillow are color-coded and allows for quick and easy fittings.
We regard this mask as a minimalist. It has a three-piece design that allows patients easy assembly, cleaning, and fitting. It has a trampoline feature to ensure a solid seal throughout the entire night of sleep.
This mask is an additional option to work along with the AirFit P10, but it has the HuminX component, a waterless humidifier. This system is what makes the entire system ideal for travel.
Troubleshooting
Just like every patient has their own unique needs, each mask has their own unique features. Sometimes there are common issues that occur. Finding quick solutions to those typical issues can ensure that you remain in compliance with your CPAP therapy.
Here are the most common issues with their solutions:
Pillow isn't Sealing Properly, Uncomfortable or Causing Red Marks
Fitting the pillow may take some practice. Make sure the pillow is set in the correct placing with the (L) and (R) indicators are lined up with your nose appropriately. The inner seals may need to be released. Squeeze the pillow until you can see the inner wall is released.
Attempt to readjust your headgear to fit accordingly to the instructions.
Clean your nasal pillow. Always follow the instruction for caring and cleaning your nasal pillow.
If your headgear becomes too loose, wash it according to the instructions, to help it return to its original foam. Then readjust the headgear.
The vent may become blocked or dirty. Use a soft bristle brush to clean the vent. The vent may discolor over time but that does not impact the function of the machine.
The vent may become wet. Makes sure to dry the vent after cleaning or allow it to completely dry before use.
Noisy Mask
If you notice that the mask has a louder noise volume than normal it may need to be reassembled. Disassemble the mask and follow the instructions to reassemble.
The mask may start leaking air. Should you notice mask is leaking air, refit and reposition your mask. Ensure the headgear is fitted correctly and check that your mask is assembled correctly.
Consumer Reviews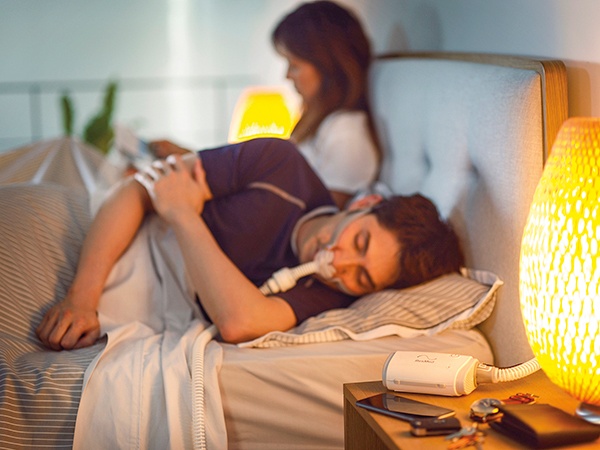 "Overall I am pleased with the nasal pillow mask. Pillow, once seated correctly is comfortable and efficient. The headgear strap is minimal yet holds the pillow in place and is far less intrusive than my prior headgear straps. The Travel Mini only hose is much more flexible than my previous CPAP hose. For me, the slight improvement would be to add 2 to the tubing between the humidifier cassettes and the nose pillow. Breath is exhaled at the humidifier and with the length now used this rest near my neck/chin and is a bit of a distraction. With a slight change, this would rate 5 stars for sure."
"I use the AirFit P10 with my daily use machine, and having it for the travel machine is wonderful. I've found the AirFit P10 to be the best mask for me as my sleep scores are always worse with the other masks I try. The difference of this particular mask with a regular AirFit P10 is the presence of the HumidX component. This adds both noise and if it gets too close a perceptible air flow. The differences aren't ideal, but the overall travel package benefits make it tolerable."
As always should you find that you have any questions or need more information about the AirFit P10 AirMini Nasal pillow or any other CPAP machine, mask, or accessory, we're here to help. Sleep Resolutions will work to help you find the answers to your sleep medicine needs.