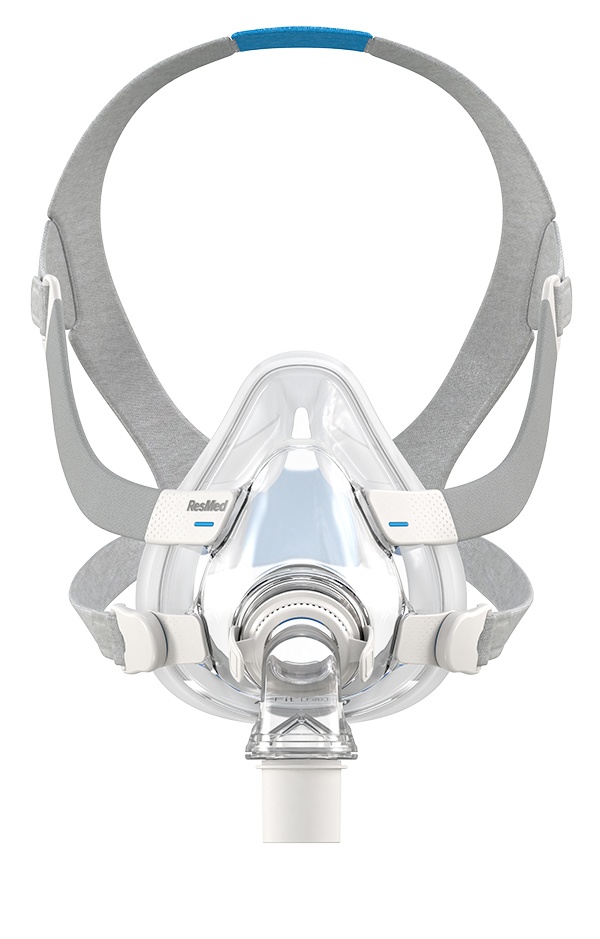 The key to successfully treating your obstructive sleep apnea is finding the right equipment that both meets your unique sleep therapy needs and is comfortable. All of the staff here at Sleep Resolutions express the importance of finding the right sleep mask for you.
As always, we take critical looks at the sleep equipment that we recommend to our patients. We want to help you find the CPAP mask that is right for you: one that is fully functional and comfortable to wear.
If you're using a mask that doesn't fit, there's a strong possibility you won't use it correctly or even at all. We treat our patients like family, and we want you to be successful in your therapy.
Here is our complete review of ResMed's AirFit F20 Full Face Mask and tips on how to make it work for you.
AirFit F20 Specifications
The AirFit F20 Full Face Sleep Mask is designed to fit all patients while working with a continuous positive airway pressure device (CPAP) or a Bilevel device (BiPAP).
This face mask features:
Therapy pressure between 3 to 40 cm H20

Operating temperatures between 41 to 104 degrees F (5-40 degrees C)

Operating humidity between 15% to 95% non condensing

Sound emitted at 30 dBA (uncertainty of 3 dBA)

Dimensions 6.1'' (H) x 6.3'' (W) x 5.8'' (D)

Service life is dependent on the care, intensity of usage, maintenance, and environmental conditions in which the mask is used in and stored.

Dead space is the empty volume of the mask to the end of the swivel when using the large cushions its 240mL
The AirFit F20 Full Face sleep mask is not made with PVC, phthalates such as DEHP, DBP, or BBP. It is not made with natural rubber latex.
Pros of the AirFit F20
This full face mask features a dual-wall cushion with ResMed's InfinitySeal cushion that is designed to reduce air leaking and provide additional support on the sides of the nose.
There is a new design to the vent that has reduced the noise from the mask by 89% from previous designs.
Altered design to meet the unique shape and characteristics of women's faces. They also come in a lavender color.
Setting up the AirFit F20 is straightforward with its click-in cushions. It has plush headgear and magnetic clips for easy adjustments.
Quick-release elbow makes it easy to disconnect the mask from the tubing without having to take off the mask.
Troubleshooting
As with any mask, there can be a learning curve getting the right fit to your face. There are some common issues that come up while patients are learning their equipment.
Here are of the typical solutions to those issues:
Uncomfortable Mask
The headgear straps might be too tight and cause the cushion membrane to add pressure against your face. The AirFit F20 cushion has been designed to inflate against your face to ensure low headgear tension. Always ensure the straps are adjusted evenly.
If you feel that your mask is the wrong size, speak to your sleep medicine provider promptly. ResMed provides a fitting template for the AirFit F20 Full Face Mask.
Noisy Mask
The elbow of the mask may need to be adjusted. You can simply remove the elbow and reassemble it according to the instructions.
The vent could be dirty and need to be cleaned with a soft bristle brush.
Air Leaks Around the Face
Always check for a crease in the cushion membrane. The mask could be improperly positioned and needs adjusting. Follow the instructions to refit your mask. It is important that the mask is in the correct position before you pull it down over your face.
Staff Reviews
At Sleep Resolutions we really do pride ourselves on knowing the equipment that we suggest to our patients.
Aly Morales, one of our DME Technicians, works out of our office in Garden City. She says the AirFit F20 is her personal favorite "because the patient has two cushion options to choose from. Also the magnetic headgear makes it easier for the patient to take off the headgear."
Janna Roberts, our Special Projects Manager, has tried the AirFit F20 herself. She switched from her ResMed AirFit N20 because she was experiencing allergy issues. She found the full face mask to cause too much dryness in her mouth.
Remember, that we are here to help with any questions, concerns, or assistance that you might need. If you are having any troubles with your sleep mask, seek out help from your sleep medicine provider as soon as possible. Ensuring that you have the right fit and are comfortable during your sleep therapy is critical to your successful treatment.