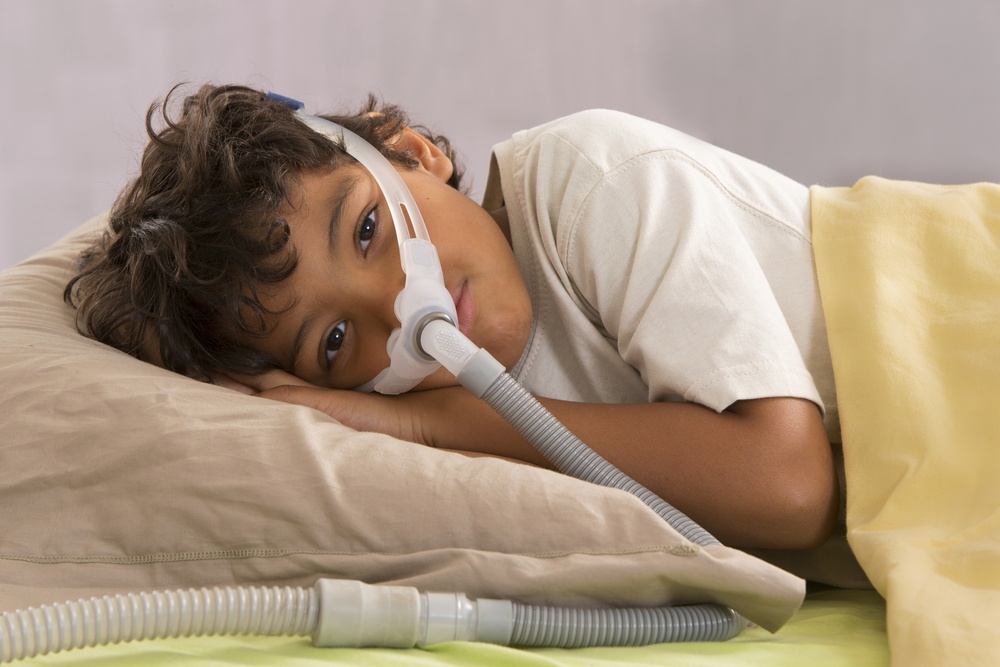 If your child has completed a sleep study, and has been diagnosed with Obstructive Sleep Apnea, your pediatric sleep specialist will recommend the best form of treatment.

If enlarged tonsils or adenoids are causing the sleep apnea, surgery is often recommended.
But surgery isn't the only solution for sleep apnea in children; fortunately, there are many non-invasive treatments.
Sleep apnea is a disruption of breathing during sleep. While sleeping, the throat muscles collapse in the airway, making it difficult for your child to breath.
The most common symptoms of obstructive sleep apnea include:
snoring
chronic mouth breathing
tossing and turning
long pauses of not breathing.
A quality night's sleep is necessary for your child's physical and mental health. Children who suffer from poor sleep have deficient immune systems, poorer academic performance, and a higher risk for childhood obesity.
The sleep disruptions associated with sleep apnea can lead to numerous behavior problems in children due to a lack of quality sleep. These behavioral issues include but are not limited to:
Attention Deficit Hyperactivity Disorder, or ADHD
Mood Swings
Irritability
Bed-wetting
Anxiety
Poor coping skills
Impulsive actions
Lack of self control
If your child has been diagnosed with OSA, your physician may recommend a CPAP machine and mask for your child to wear at night to ensure they have a non-disruptive night's sleep.
A CPAP (continuous positive airway pressure) setup consists of a mask, headgear, and a machine.
The mask portion sits over the child's mouth and nose, while the headgear holds the mask in place.
Tubing connects the CPAP mask to the machine.
The purpose of a CPAP machine is to allow continual pressure of the child's airway while they sleep, keeping the airway open all night long. This will allow regular breathing, decreased snoring, and a better night's sleep.
The machine also has a filter to eliminate all air impurities, such as dust. Most machines feature a quiet system that even light sleepers can tolerate.
Although sleep apnea is diagnosed most frequently in adults, it is now being recognized in children and adolescents. Children have delicate facial features, meaning they have special needs different from an adult. Fortunately, there are numerous options on the market designed specifically for children. We've created a list of the most popular CPAP masks available for the needs of your child.
Choosing a CPAP Machine
After your doctor prescribes a CPAP machine, you will be able to choose which option is the best fit for your child. Most insurances cover CPAP machines as a form of Durable Medical Equipment, or DME.
CPAPs may be purchased or rented, depending on your insurance. Machines vary from basic to advanced, and there are numerous bells and whistles to choose from. Keep in mind, insurance may not cover the additional costs of the more sophisticated systems.
Wisp Pediatric Nasal CPAP Mask Pack with Headgear
This CPAP comes in three sizes to ensure you get the right fit for your child. Its unique correction dial allows easy adjustment if small air leaks occur.
The adjustable headgear, flexible frame, and giraffe pattern make it a great product for young children.
ResMed Mirage Kidsta Pediatric Nasal Mask with Headgear
The Mirage Kidsta Pediatric Nasal Mask is designed specifically for children seven years and younger. Its open concept allows children to retain a visual field and cushion keeps their little noses comfortable.
The dual-wall nasal cushions protect your child's intricate features. The "Set and Forget" headgear technology with click-on parts will minimize adjustments as your child grows.
Pediatric MiniMe Nasal CPAP Mask with Headgear
The MiniMe was designed for and is FDA approved for children two to twelve Its noninvasive design allows for easy adjustment. Its patented AIR gel cushion allows protection and decreases pressure on your child's sensitive skin.
The breathable headgears provide a comfortable fit all night long. Safety features include a Quick Release system which allows the headgear and mask to be released with one hand.
ResMed Pixi Pediatric Nasal CPAP Mask with Headgear
Thehttps://www.resmed.com/us/en/consumer/products/masks/pixi-pediatric.html https://www.resmed.com/us/en/consumer/products/masks/pixi-pediatric.html is designed for children two years and older, this cushioned mask minimizes discomfort without compromising the airway's seal. It has three points of adjustment to offer a more personalized fit to children of all ages and sizes.
It was designed with safety in mind, with its adjustment points out of the child's reach to prevent tampering with the device, and an emergency latch allows for fast removal if necessary.
Circadiance SleepWeaver Advanced Pediatric
This system is FDA approved for children two to seven years old. The soft cloth technology of the SleepWeaver system inflates the mask to create a perfect seal.
The soft cloth also eliminates pressure points and potential leaks. The open concept mask allows undisruptive vision for children who wear glasses.
How To Get Your Child To Wear A CPAP Mask
Children can be stubborn to try new things. Wearing a CPAP mask is no exception. With enough practice, your child will be sleeping through the night wearing their mask. Here are some tips to introduce the CPAP mask and machine to your child:
Make it fun! Use lots of positive reinforcement
Establish a bedtime routine prior to introducing the CPAP
Show your child how to wear the mask by placing it on a stuffed animal or yourself
Keep the machine on several nights before introducing the mask to allow your child to adjust to the noise
Practice wearing the mask several times a day before bedtime
Use rewards when your child wears the mask for longer periods of time
Stay patient. Try not to show your frustration if your child is reluctant
Final Thoughts
Always speak with your Sleep Medicine Specialist for their recommendations. Many local and online Home Medical and Durable Medical Equipment stores have a variety of CPAP masks available for adults and pediatrics alike.
If you have any questions, be sure to ask the experts at Sleep Resolutions. We are here to help make this transition and treatment process easy for you and your child.