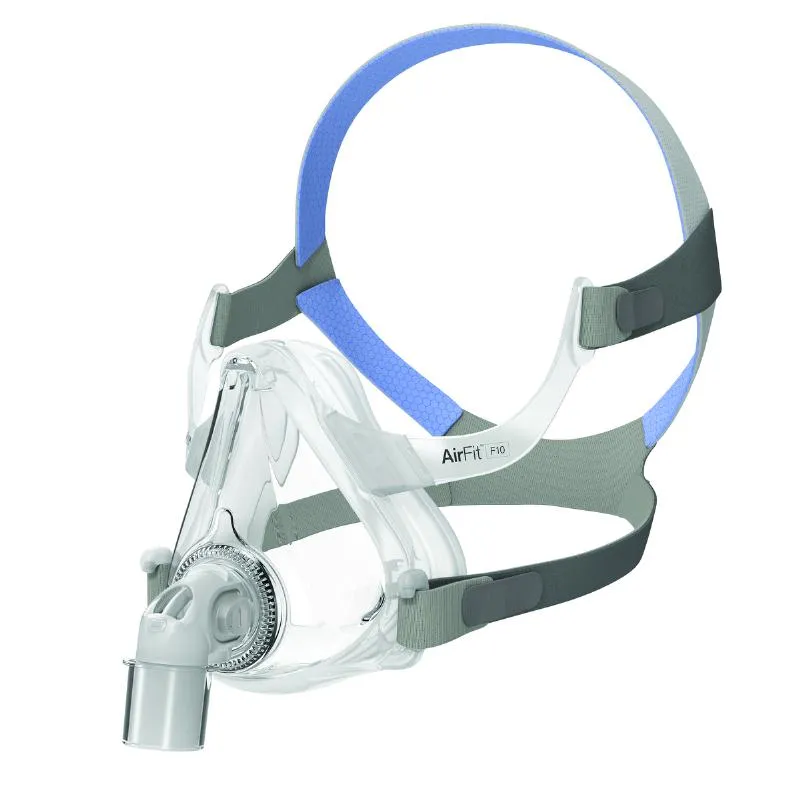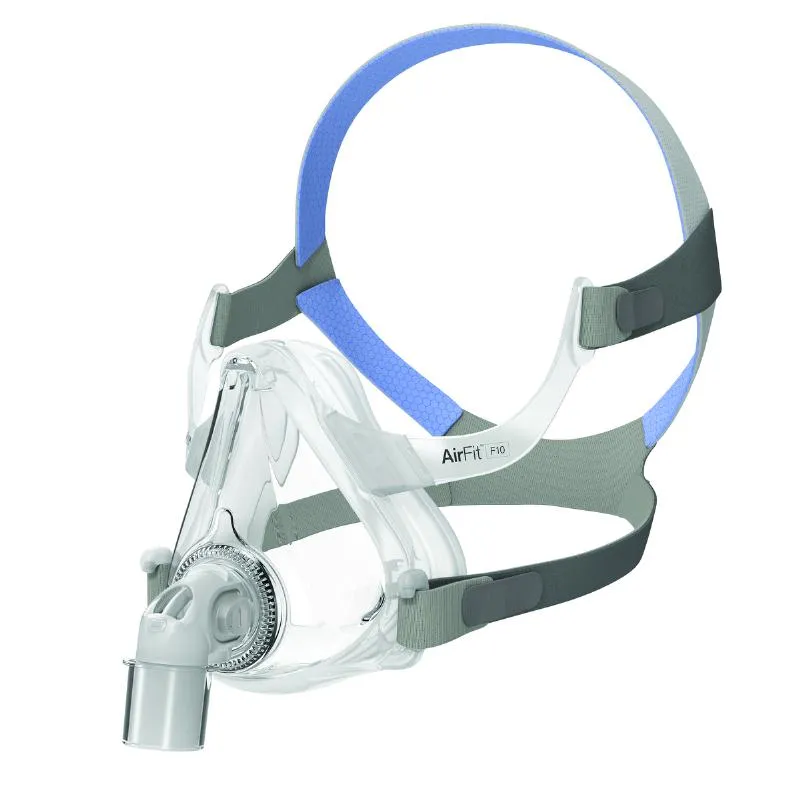 Sleep Resolutions is your full-service sleep medicine clinic. We provide our clients with individualized services to ensure that you are getting the most effective treatment possible.
Along with ensuring that our patients' sleep therapy is customized to their needs, we ensure that the CPAP machines, masks, and accessories are in-line with those needs. If a patient has a mask that isn't comfortable or a machine that causes them to have dry mouth, we know they are less likely to be consistent with their therapy.
We work to make sure you are getting the correct equipment by providing in-depth reviews of the machines, masks, and accessories that are available to you.
Here's a look at the ResMed AirFit F10 Full Face Mask:
ResMed AirFit F10 Specifications
The AirFit F10 is known for its comfort and reliability. It is a solid option when first selecting a face mask as it has demonstrated its effectiveness over time.
Therapy pressure between 3 to 40 cm H20

Operating temperatures between 41 to 104 degrees F (5-40 degrees C)

Operating humidity between 15% to 95% non condensing

Dimensions Large: 5.51'' (H) x 5.75'' (W) x 5.59'' (D)
Medium: 5.39'' (H) x 5.75'' (W) x 5.59'' (D)
Small: 4.69'' (H) x 5.59'' (W) x 5.67'' (D)
Extra Small: 4.61'' (H) x 5.59'' (W) x 5.59'' (D)
Service life is dependent on the care, intensity of usage, maintenance, and environmental conditions in which the mask is used in and stored.

Dead space is the empty volume of the mask to the end of the swivel. When using the large cushions, it's 222mL
As always, ResMed does not use PVC, DEHP, phthalates, or natural rubber latex in the making of this mask.
Pros of the AirFit F10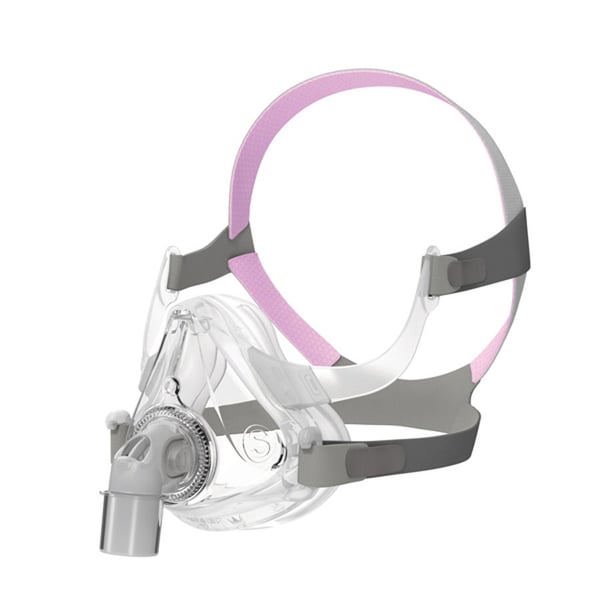 This is more of a traditional face mask and has shown its dependability. The AirFit F10 offers a more compact design than the previous models. It is 15% lighter than the market-leading compact full face mask.
It has a clear line of sight for wearing glasses, watching tv, reading etc before bed. The mask comes with removable comfort strap sleeves to alleviate red marks on the face.
Its small size and lightweight design make daily use comfortable. The Spring Air cushion has enough give to allow for movement throughout the night without compromising the seal.
The AirFit F10 comes in four parts which make it simple and easy to assemble and reassemble.
This is the quietest full face mask made by ResMed. It has circular diffused venting to move the exhaled air away from you and your partner.
It features the quick release elbow. This allows patients to be able to detach from their CPAP machine without removing the mask. Making bathroom trips easier throughout the night.
Troubleshooting
Every mask on the market today can present patients with issues. It is important to understand the potential solutions to the common issues that may come along with this mask. Sometimes a simple issue may cause a patient to stop using the mask or have less effective treatment.
Here are some of the common problems and their solutions:
An Uncomfortable Mask
If you are experiencing an uncomfortable mask, the first thing you will have to do is check the headgear strap are adjusted correctly. The straps may be too tight causing unnecessary pressure against your face.
The cushion membrane inflates against your face to ensure a comfortable seal with less tension placed on the straps.
Another reason your mask may feel uncomfortable could be an incorrect size. If you have a mask that is too large or too small, it will impact your comfort and the mask's function. Speak with your sleep medicine provider if you feel you might have an incorrectly sized mask.
ResMed offers a sizing template that should be used when measuring for fit.
Noisy Mask
If you notice that your mask has a change in the noise level, you should check the elbow of the mask. The elbow of the mask might not be correctly connected to the mask. Remove the elbow and reconnect it.
The vent might be blocked and causing the change in the noise level. Use a soft bristled brush to clear the venting.
Air Leaks Around Face
If you are experiencing air leaks around your face, there are a few different solutions. The cushion membranes may be creased or folded over. While the mask is removed, check over the cushion to see if you can see any noticeable folds or creases to the cushion. Then refit the mask following the instructions. It is important to not slide the mask over your face as it may cause folding or creasing.
Again, having the correct sized mask is critical. A mask that is too large or too small can cause air leaks. Talk to your sleep medicine provider about potential size changes to decrease air leaks around your face.
The frame of the mask could be incorrectly fitted. Disassemble the frame of the mask and reassemble it according to the instructions.
Not every mask works for every patient. If you find that this mask isn't working for you, speak to your sleep medicine provider. Finding the right mask for you and your specific sleep therapy needs is so important to ensure you remain compliant with your sleep therapy.
Reviews
"This cushion is part of the best full face CPAP mask I've ever used. This cushion is easy to replace and clean. It is very comfortable."
"Item works as advertised. I Wish there wasn't so much trouble keeping air in but that's because of the design."
Last Thoughts
As always, Sleep Resolutions is here to help with all your sleep medicine needs. If you would like to set up a individual consultation, click the link below. We will set up a scheduled meeting with your and on of our highly trained staff to discuss your individual concerns, needs, or questions.